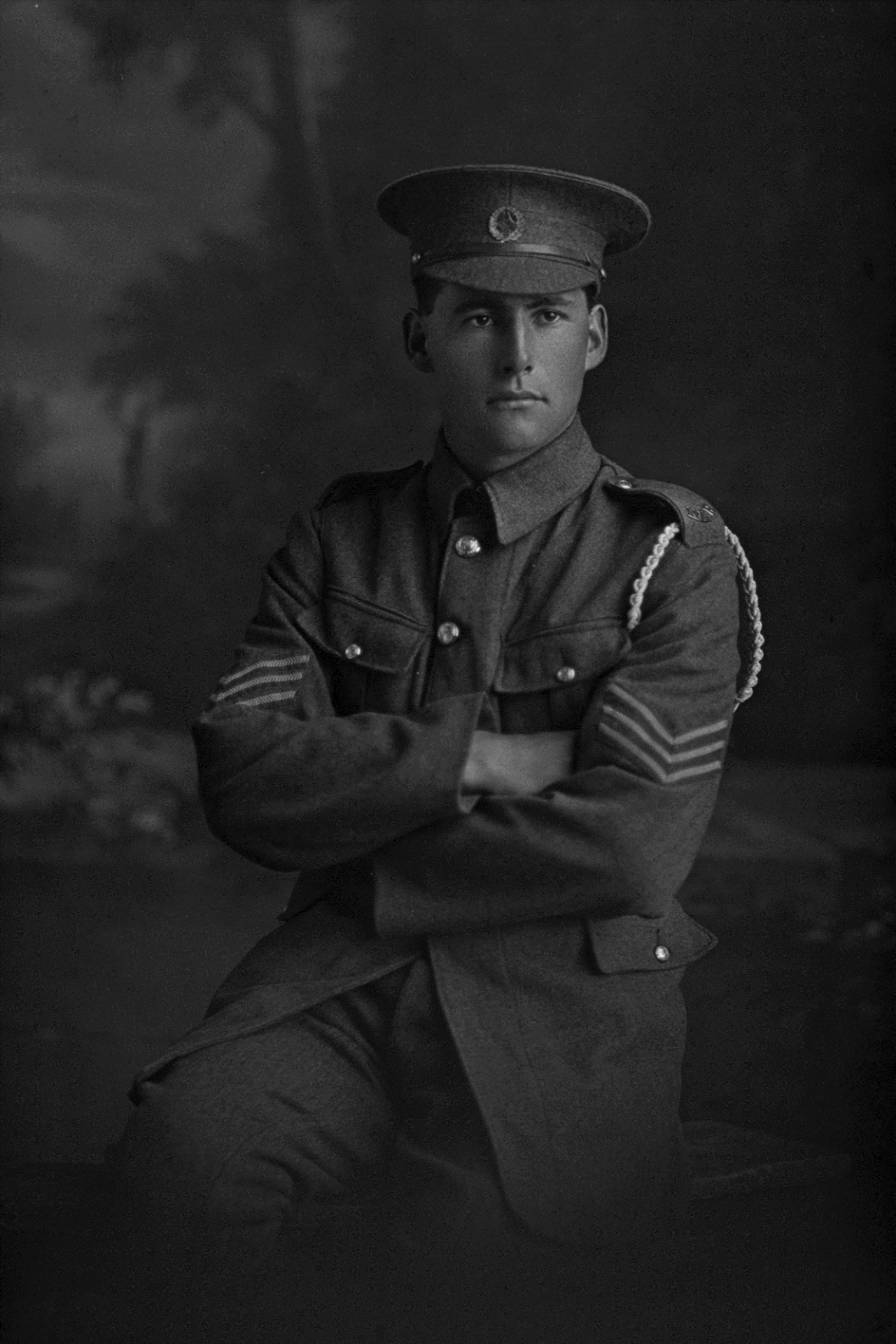 Finding Inner Strength: Private Gilbert Gregory Mitchell and Private John Graham Devenish
Courage under fire is not a universal characteristic; many people find it, others do not. All soldiers, however, hope they will prove to be brave when they are put to the test. On Gallipoli men found the inner strength needed to do their duty in a number of ways. An incident just after the NZEF's Fifth Reinforcements had landed at Gallipoli reveals how two ordinary soldiers Private Gilbert Gregory 'Greg' Mitchell, No. 12/2392 and Private John Graham Devenish, No. 12/2271 of the Auckland Infantry Battalion found the courage to do their duty.1
Greg Mitchell was a public servant in Auckland when he enlisted in the NZEF. In June 1915 he sailed from New Zealand as a member of the Fifth Reinforcements.2 When the Fifth reinforcements arrived at Gallipoli on 8 August 1915 fighting in the Allied offensive was raging north of Anzac Cove. Immediately after landing the New Zealand reinforcements were ordered to join a column that was to move inland towards the Sari Bair range. The column mainly consisted of three inexperienced Irish battalions and was to support the exhausted and battered New Zealand troops at the Apex and on Chunuk Bair. To reach their objective of the column had to pass through an area about 90 metres wide that was being raked by Turkish artillery fire. It was obvious to the inexperienced Irish soldiers that crossing this ground was fraught with danger and they refused to move forward. The fresh troops were desperately needed at the front line and it was apparent to all present that a critical situation had developed:
The Colonel in charge was in despair. He came along towards the Munsters & said, 'men there is a handful of colonials holding off thousands of Turks who may break through & come right down on us here. Are you going to ask them to stay up there where they have been for 48 hours, without food & only a little water?'. There was no sign on the part of the men that they were anxious for the music, & looking at them [he] asked, 'where is your Irish spirit?', then his eye fell on us. 'For Gods sake pass the New Zealanders along' he cried & went back to give us our directions when we reached his point of vantage. We swung our rifles on our shoulders & with heavy hearts in our boots we prepared to show the mettle we were. Personally I did not like it & my knees felt awfully unsteady. Another Sgt beside me was in a blue funk & his fear seemed to give me strength. 'Buck up' I said to myself, 'Don't let W-- see that you are frightened. Poor W-- put his arm on my shoulder in order to support himself & I felt the stronger for his weakness. I was glad to be able to as he had sneered at my courage many a time on the ship when I was sea sick.3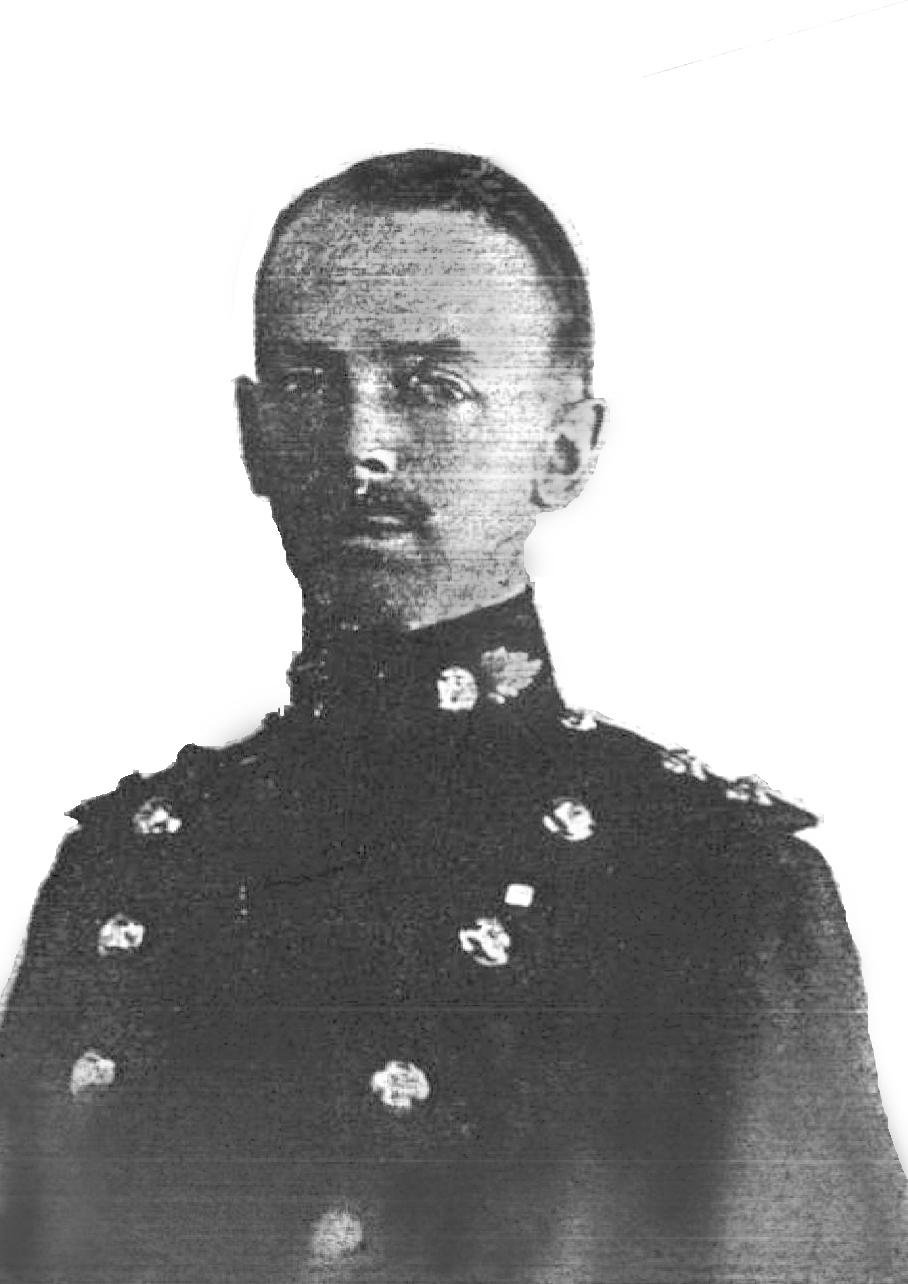 Standing near Mitchell at this time was a friend, "an old campaigner", 36-year-old Private John Graham Devenish, No.12/2271. His actions on 8 August clearly show how courage can also came through inspiration from natural leaders and that leaders often have to put on a brave face to mask internal doubts.
John Devenish was born and bred in Ireland, In October 1899 he was commissioned as second lieutenant in the Royal Inniskilling Fusiliers. Devenish was wounded at the Battle of Colenso in South Africa two months later. He had not long recovered from this wound when in the Battle of Inniskilling Hill on 23 February 1900 Devenish was shot through both legs. He lay out on the battlefield, unable to walk, for the rest of the day and during a freezing night surrounded by other wounded and dying men. The following day his Battalion's medical officer, Lieutenant Inkson, ran out under fire and rescued him, a feat for which he was later awarded the Victoria Cross. Devenish recovered from his wounds, was mentioned in dispatches for good service later in the South African War and retired from the Inniskilling Fusiliers as a captain in 1907. He then moved to New Zealand and was living in Auckland and working as a self-employed contractor when war broke out. As a fairly young retired regular British Army officer he could easily have obtained a commission in the British or New Zealand forces. For some reason, however, he played down his previous military service and enlisted in the ranks of the NZEF.4
During the Fifth Reinforcements' voyage to Egypt en route to Gallipoli Devenish's leadership qualities were evident during trouble over poor food and an unreasonable order about the use of water.5
On 8 August after the column of reinforcements halted because of the refusal of the Irish troops to advance through the Ottoman Artillery fire, the commanding officer of Devenish's platoon recognising his inner qualities sent him to the front of the column. At the head Devenish:
was on his mettle. Many old brother officers in the Irish regiments were watching him & his N Z'ers. Before we moved he went quietly amongst the men of his platoon (the leading one) & told them to set an example to all the onlookers. 'I am an Irishman of Tipperary' he said, '& as many of you are of Irish descent, I want you to vindicate Ireland's reputation which has fallen in the mire today... When I break & run you can run too, but if you wait for me to run, you will wait till Doomsday….' Many of us listened to his brave words & only one or two knew how faint was the heart of the speaker.

But at last they were on [towards the Apex and Chunuk Bair], & Devenish as he passed the Colonel (an old friend) passed some jocular remark about other days…. In a moment the shrapnel was screaming overhead & the first shell tore off the equipment from Devenish's right side, & riddled [Sgt Maj Charles] Sinton's haversack. The men took fresh heart when Devenish & Sinton went on arm in arm. The next shell went wide & soon we were halfway across. But the last 40 yards took an awful toll, & men fell thick & fast, but not one single man made a break for cover. The confident bearing of the men in front gave those behind a new lease of courage & all pressed steadily forward.… Well we got into the comparative shelter of the gully & with only a few casualties reached a ridge below Sari Bair.6
Devenish "looked the calmest man in the world" when leading the rush, according to Greg Mitchell. But Mitchell knew otherwise - for Devenish had earlier "confessed to an overwhelming fear & pointed to the fact that he was shaking like a leaf while his pulse was high."7 Warrant Officer Charles Sinton who led the charge with Devenish was killed shortly afterwards. He was a noted athlete with a "very quiet and unassuming disposition".8
Devenish was wounded on 13 August. He returned to Gallipoli at the end of September, but his health soon broke down and he was evacuated for a second time. He was invalided to New Zealand after being seriously wounded in France, in 1916. In May 1917 he was discharged from the NZEF as "no longer fit for war service on account of wounds". John Devenish, who was wounded four times in two wars, never married. He died in Auckland in 1947.9
Mitchell stood up to the stress of front-line service at Gallipoli although a few weeks after landing he wrote that  "the strain is beginning to tell on us.… We are kept on half rations here most of the time & yet have to work about two days out of every three for about 10-12 hours on a pick & shovel." He was wounded on 28 August but returned to Gallipoli in October. He stayed until the evacuation, when on 17 December "McLaren, Coulam & I of our sector had volunteered to stay until the last, but the nearest we could get was the second to last party." Greg Mitchell served on through France, including with light trench mortar batteries, where he was awarded the Military Medal for courage under fire. He served in the Territorial Force after the war and rose to major in the Home Guard during the Second World War. He died in 1965.10
Private Kenneth Matheson Sutherland
When winter came to Gallipoli in late 1915, even the company cook could keep spirits high by providing a hot drink and meal to cold and weary men. Sometimes this was done under extraordinary difficulties. An example comes from Private Kenneth Matheson Sutherland, No.12/639, a 28-year-old from the Hokianga, who enlisted in the New Zealand Expeditionary Force (NZEF) and was posted to the Auckland Infantry Battalion. Calling himself a jack-of-all-trades, Ken had last worked for a saw miller near Dargaville. In the expeditionary force he did not find his niche until appointed company cook.11
On a chilly November day Ken had just stepped out of his cookhouse while preparing a meal, when it was totally destroyed by an enemy shell. With the boys to feed Ken was undaunted, so:
he went down to the Waikato [company] cookhouse & fishing some Dixie's out of a rubbish tip he plugged up the holes in them, & got some water & he soon had a merry fire going, & sent word that he was sorry for the delay, but would do his best for us. Just as we were about to bid farewell to Rhododendron Spur we heard him call for a couple of men. Half a dozen rushed off & soon came back with a dixie of stew & 4 dixies of tea. We gave him a cheer & sat down to a surprise meal. Good old Ken. I shall always cherish a warm spot in my heart for his big heart & dauntless courage.… This cooks spirit could not be but infectious & we who lay in the trenches & trembled, felt ashamed when we thought of Sutherland, telling himself that we were not going to be without a drink of tea, at least, & to see the work of hours performed go up in smoke, & to think how he set to work again chancing his life all the time, built fresh fires, & carried water up that steep slippery path where mules had failed to find a footing many a time. Gathering his dixies from near & far, opening bully beef tins, whistling serenely, his curly black hair bobbing up & down as he moved over the face of the slope, laid as good a tea before us as we ever got on the Dardanelles. I say that such men as Ken Sutherland are the rightful medal winners & should be honoured by their country.12
Ken was not honoured and after repeated illness in France was invalided back to New Zealand early in 1917. The condition he suffered from was shell-shock, which blighted his next few years. He was admitted to the Rotorua Sanatorium but his condition left him subject to impulsive acts of irritability and uncharacteristic violence. This led him to face charges for assault. His war service was raised in the defence, his lawyer saying "On Gallipoli Sutherland had performed more than one act of gallantry". With a sympathetic understanding of his ailment this saved him from imprisonment, but not a conviction and more treatment. Ken Sutherland died in 1959.13
Footnotes
Field-Marshal Sir William Slim, Courage and Other Broadcasts, London, 1957, pp.5-9.
Attestation Form and History-Sheet, Gilbert Gregory McCarthy Mitchell NZEF PF, R21376108, Archives New Zealand, Wellington [ANZ].
GGM Mitchell Letter from Malta to 'My Dear Homefolk', 21 September 1915, Mitchell Family Collection.
Attestation form, John Graham Devenish NZEF PF, R20996891, ANZ.
GGM Mitchell Letter from Malta to 'My Dear Homefolk', 21 September 1915, Mitchell Family Collection; unknown author, 'John Graham Devenish', Devenish PF, ANZ.
GGM Mitchell Letter from Malta to 'My Dear Homefolk', 21 September 1915, Mitchell Family Collection.
GGM Mitchell Letter from Malta to 'My Dear Homefolk', 21 September 1915, Mitchell Family Collection; unknown author, 'John Graham Devenish', Devenish PF, ANZ.
Free Lance, 10 September 1915, p.4; New Zealand Herald, 31 August 1915, p.9.
History-Sheet, Devenish PF, ANZ; John Graham Devenish probate file, AAOM W3265 1995/27, ANZ.
For later service see Gilbert Gregory McCarthy Mitchell Territorial Force PF, R24170584, ANZ;, Keith Sloane, Living With High Explosives, Auckland, 2014; New Zealand Herald, 5 November 1943, p.2; New Zealand Herald, 6 December 1945, p.6.
Attestation form and History-Sheet, Kenneth Matheson Sutherland NZEF personal file [PF], R7822995, ANZ.
Eye-witness account by 12/2392 Cpl G Greg Mc Mitchell, in a letter of 26 March 1916, Mitchell Family Collection.
Auckland Star, 16 April 1917, p. 6; See also New Zealand Herald, 13 April 1917 p.3; New Zealand Truth 28 April 1917, p.2; History-Sheet, Sutherland PF, ANZ.