29 October 2012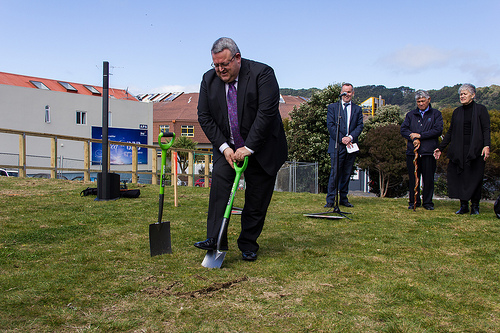 Construction started today on the National War Memorial Park with the first sod being turned by Arts Culture and Heritage Minister Chris Finlayson and Transport Minister Gerry Brownlee.
The ceremony, which was attended by local stakeholders, included a blessing by local Kaumātua.
Preliminary work, including archaeological investigations, have taken place prior to construction commencing. The remains of what appears to be an old gun pit have been uncovered, as well as walls from a previous garrison hall on Buckle St opposite the National War Memorial. The New Zealand Transport Agency is working closely with Manatū Taonga, the Ministry for Culture and Heritage and the Historic Places Trust to ensure remains are well documented before their removal.
The Wellington park will be completed in time for Anzac Day services in 2015 to mark 100 years since ANZAC troops landed on the beaches of Gallipoli.
When announcing the development of the National War Memorial Park in August, Prime Minister John Key said it would be the Government's key project to commemorate the centenary of the First World War across 2014-2018.
Parliament passed the National War Memorial Park (Pukeahu) empowering legislation last month enabling work to get underway to divert traffic underground on Buckle Street to unite the different parts of the Memorial precinct for the first time.
<