03 December 2012
Cherry Barnaby sat in the front row of seats outside the site of the former Hamilton Hotel and watched a promise fulfilled that had its origins on the battlefields of Gallipoli.
The Tauranga woman is the granddaughter of Sapper Horace Moore-Jones, an acclaimed and heroic First World War soldier, whose heroism was needed again several years after the war during a disastrous fire.
In late November, 2012, a street in central Hamilton was officially renamed Sapper Moore-Jones Place at a ceremony led by The Governor-General Lt Gen Rt Hon Jerry Mateparae.
It marked the first official recognition of Moore-Jones in New Zealand, and was the culmination of a community project undertaken by the Toti Trust, a Hamilton group involved in creative public projects.
Sapper Moore-Jones was 42 at the outbreak of war, but gave his age as 32 so he could enlist with the New Zealand Expeditionary Force. He was among the first Anzac soldiers who landed on Gallipoli Peninsula, on April 25, 1915 and his artistic skills were soon put to use.
Moore-Jones crawled behind enemy lines to sketch topographical maps. Towards the end of 1915 his drawing hand was injured, but while recovering in England managed to produce almost 80 watercolours of Gallipoli.
His best-known work is The Man with the Donkey, first painted in 1917. It depicts field medic Richard Henderson with a donkey carrying a wounded soldier to safety, and has become an enduring Anzac image.
After the war Moore-Jones taught art at Hamilton High School, travelling from his home in Auckland each week, staying at the Hamilton Hotel.
On April 3, 1922 the hotel caught fire at 4am. Moore-Jones escaped without difficulty but returned twice to the burning building to rescue others.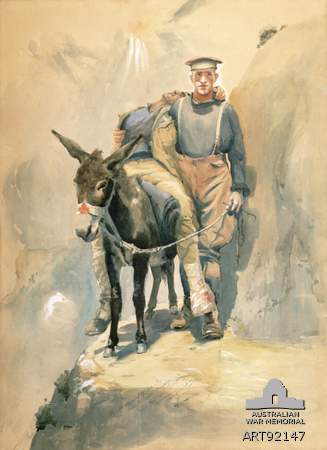 He died in Waikato Hospital later that day. The coroner concluded he could have saved his own life "but hearing the cries of women in distress he went back to their aid, and sending them on to the balcony, again went back to carry on his rescue work. Later he was found on the roof of the building next door, and had to be lifted down by members of the fire brigade."
Returned soldiers escorted his body to Hamilton's central railway station and "the public of Hamilton lined Victoria St and stood in silence while the cortege passed". He was buried at Auckland's Purewa cemetery.
Cherry Barnaby was one of 11 of Moore-Jones' descendants at the street-naming ceremony that was also attended by Ross Henderson, son of Richard Henderson, the man in the painting.
Cherry said her mother had always promised to ensure her grandfather received some kind of public recognition but had never succeeded.
"She was so proud of him. This is quite overwhelming. It means the world to me."
Family members each have copies of Moore-Jones' painting and adorn it with poppies each Anzac Day.
Sapper Moore-Jones Place is the street on which the former Hamilton Hotel stood and the Toti Trust now wants to commission a statue of the Gallipoli soldier.
Guests at the ceremony marking the name change also watched a performance of the play, Sapper Moore-Jones, written by Hamilton playwright Campbell Smith for Hamilton High School's centennial.