By:
David Green - Historian at the Ministry for Culture & Heritage
Historian David Green analyses a recently discovered archival document which sheds new light on the question of how many New Zealanders served at Gallipoli.
---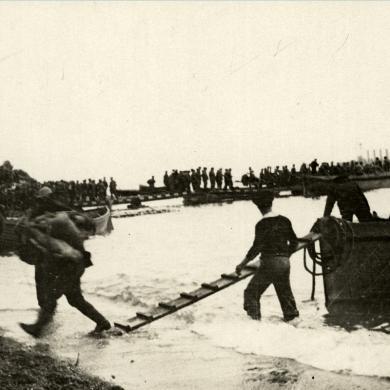 Update: Since publication of this article, research has since been undertaken to revise the number of New Zealanders who landed on Gallipoli to about 17,000. Read how this new number was discovered here.
In a 2013 blog I identified the origins of a widespread and tenaciously held misunderstanding that precisely 8556 New Zealand troops served on Gallipoli in 1915. One of the consequences of this misconception has been an exaggeration of New Zealand's casualty rate that has received a new lease of life during the centenary of the Dardanelles campaign.
A document recently unearthed in Archives New Zealand provides new evidence that the actual number was much higher, and the casualty rate accordingly lower. It suggests that most of those who landed on Gallipoli after the initial invasion were fresh reinforcements, not men returning after hospitalisation for wounds or illness. It discredits the theory that many men of the initial force left and returned to the peninsula several times – the only way to justify a figure in the vicinity of 8556.
Following the publication of Richard Stowers' meticulously researched Bloody Gallipoli in 2005, many New Zealand historians of the campaign came to accept that 8556 was too low. Noting that nearly 20,000 troops had left New Zealand in time to potentially fight in the Dardanelles, Stowers guesstimated that 13,972 of them had actually landed on the peninsula. Recently, both Ian McGibbon and Glyn Harper have plumped for 13,000 or more.
The centenary of the Great War has encouraged several historians to research this question further, and we eagerly await their findings. Meanwhile, my colleague Imelda Bargas has made an intriguing discovery at Archives New Zealand in Wellington.
The hard-covered book bears the printed title 'Repertoire'. Its pages are indexed and lined in a grid pattern. In the 1970s, when a copy was sent to the Latter Day Saints in Utah for microfilming, an archivist described it prosaically as 'Nominal Roll of Unidentified Unit'.
In fact, it contains lists – ordered by surname, rank and date – of men of the 6th (Hauraki) Company of the Auckland Infantry Battalion who landed on Gallipoli during 1915. This was not an official military record. Perhaps a junior officer with an eye to posterity began compiling it on the Lützow as the initial invasion force sailed from Alexandria to the Dardanelles. To judge from the handwriting, it was subsequently kept up to date by at least one other soldier.
The pages bearing names beginning with F and W are missing. But we have at least 90% of the original document, and the information it contains is fascinating.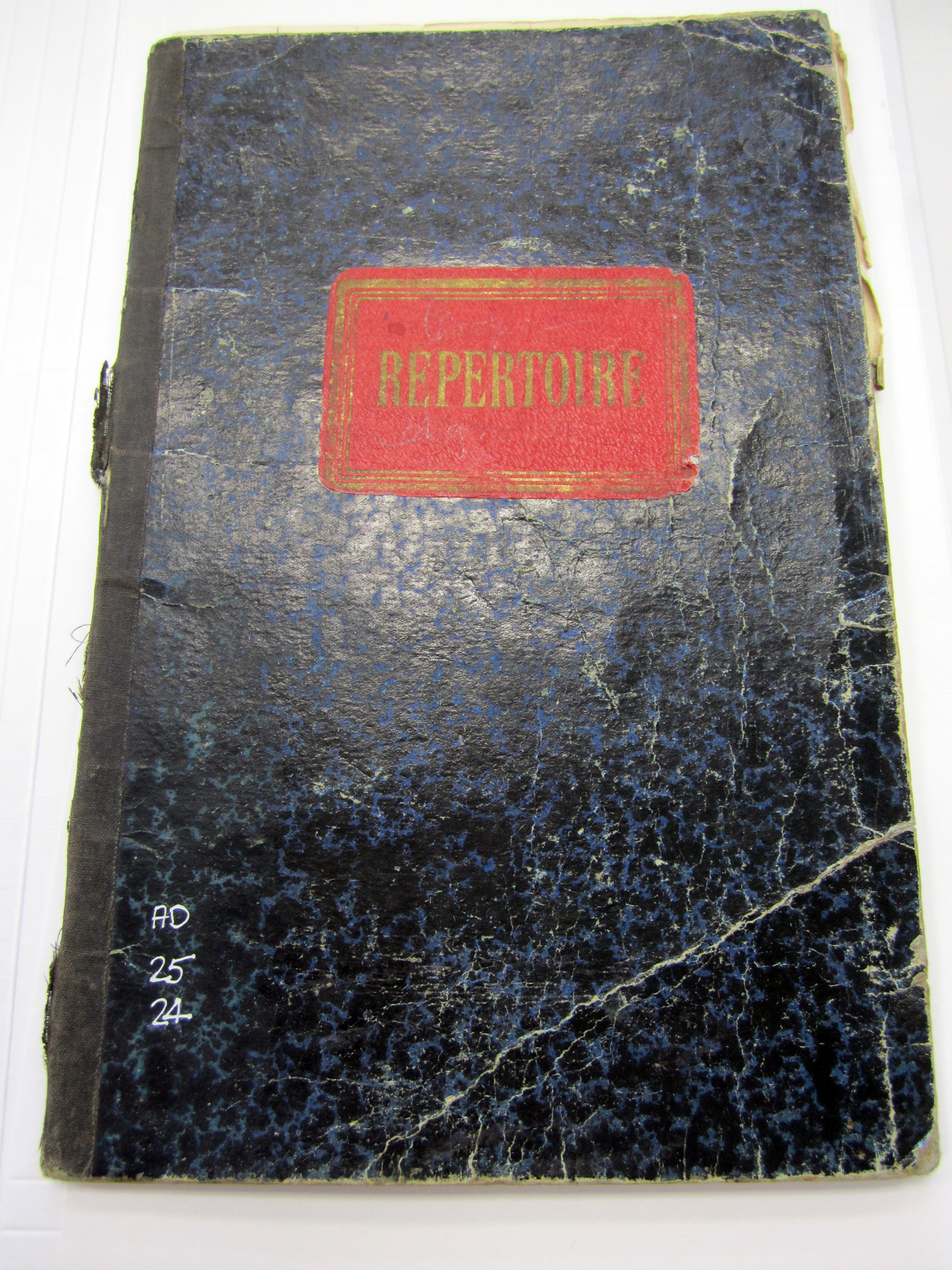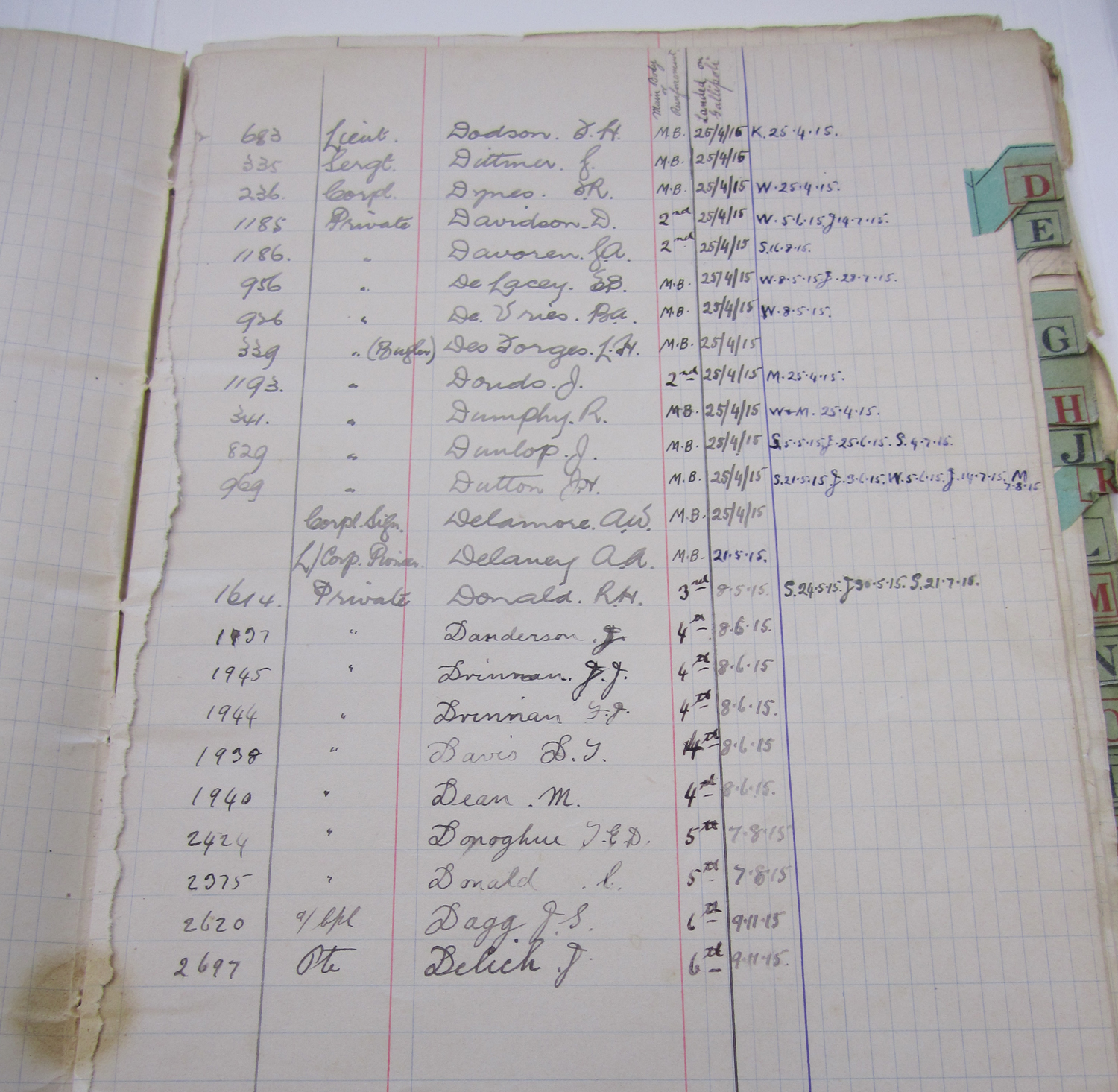 The date each man first 'Landed on Gallipoli' is given for 434 of the 453 men named. The monthly tallies are: April 204 (all on the 25th), May 61, June 76, July 8, August 32 (all 5th Reinforcements), November 53 (all 6th Reinforcements).
When men became casualties, this was recorded alongside their name. A total of 51 men are noted as dying or going missing, while 129 were wounded but recovered. The Aucklanders were the first New Zealand battalion to land at Anzac Cove on 25 April, and the Haurakis' casualties reflect this. That day they lost 23 men dead or missing, and 58 wounded. They also suffered significant casualties on 8 May (the 'Daisy Patch' attack at Helles), 5 June (a trench raid from Quinn's Post), and 7 August (the advance from the Apex during the Sari Bair offensive). The company also had a man taken prisoner during the latter action.
54 men are recorded as leaving the peninsula sick, nine of them twice. Half of them – 27 – left during July, at the peak of the summer heat. Most of the others fell ill in May (14) or August (10).
The same number of men – 54 – are named as rejoining the company after leaving Gallipoli for treatment for wounds or illness. Most of them – 45 – came back in June or July. Private James Heywood Dutton (12/969), a former attendant at Auckland Mental Hospital who had landed with the initial force on 25 April, is the only man recorded as returning to the peninsula twice. He sprained his ankle in May but recovered in Egypt in time to come back and get shot in the knee on 5 June. It was not to be a case of third time lucky for Dutton, who went missing during the fighting above the Apex on 7 August. His body was never recovered.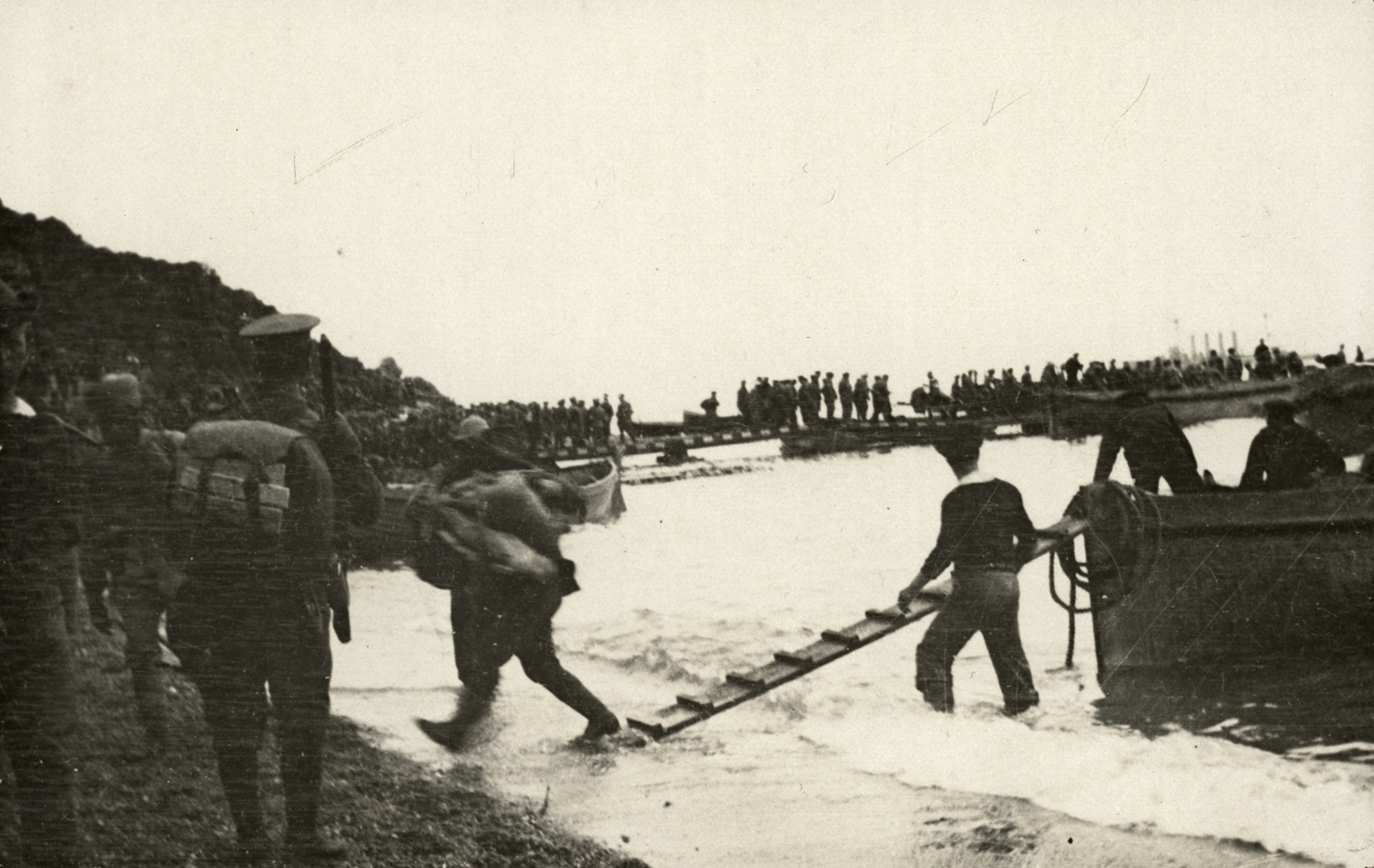 What can we conclude from this data? It is clear that there was a steady flow of new men to the peninsula. More men arrived between May and November to reinforce the company than had landed with it in April. Further, men returning to the peninsula after recovering from illness or injury accounted for only about one-fifth of all arrivals from May on. On the evidence of this document, the Haurakis had a casualty rate of about 54%, similar to that of the Australian forces overall and much lower than the widely touted New Zealand rate of up to 93% that is derived from a landed force of 8556.
Caveats must be entered. This roll is not an official document, and we do not know how scrupulously it was maintained. It is possible that while the names of all the men who landed were recorded, the information on casualties is less complete. Further, not all the New Zealand units which fought on Gallipoli had the same experiences as the Haurakis. Some suffered more battle casualties in August than in April; the mounted rifles did not arrive until May.
Nevertheless, if this document is reasonably representative of the New Zealand force as a whole, it supports assertions that the majority of the 3rd to 6th Reinforcements were sent forward from Egypt to the Dardanelles. And it strongly suggests that these reinforcements made up a sizable majority of the men sent to Gallipoli from May, with returning 'originals' a small minority. It provides further evidence that a figure of 13–14,000 New Zealand troops landed on Gallipoli is much more plausible than a significantly lower number.
Date added: 06 August 2015
|
Last updated: 08 February 2018