Although John James Jackson was not involved in a big battle like the Somme or Passchendaele, his experience of trench warfare was typical of New Zealand soldiers' time at the front. It also ended in a typical manner.
---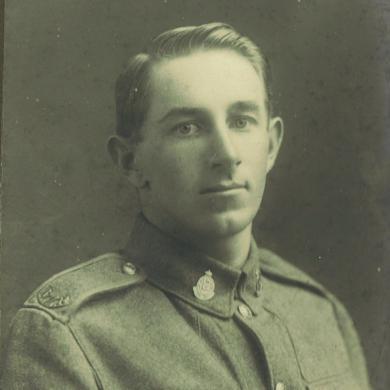 On 11 July 1917, New Zealand soldier John James Jackson sent a surprising souvenir from England to his family in Te Kopuru, near Dargaville. Inside, his parents found a matchbox inscribed with 'New Zealand' and a picture of a fern. Inside that, they found a shrapnel ball, a tiny X-ray, and a folded note. "This is the shrapnel bullet which wounded me on 31/12/16," wrote Jack, as he was known to his family. "Taken out from back of right hip same day. Mark on bullet caused by extraction."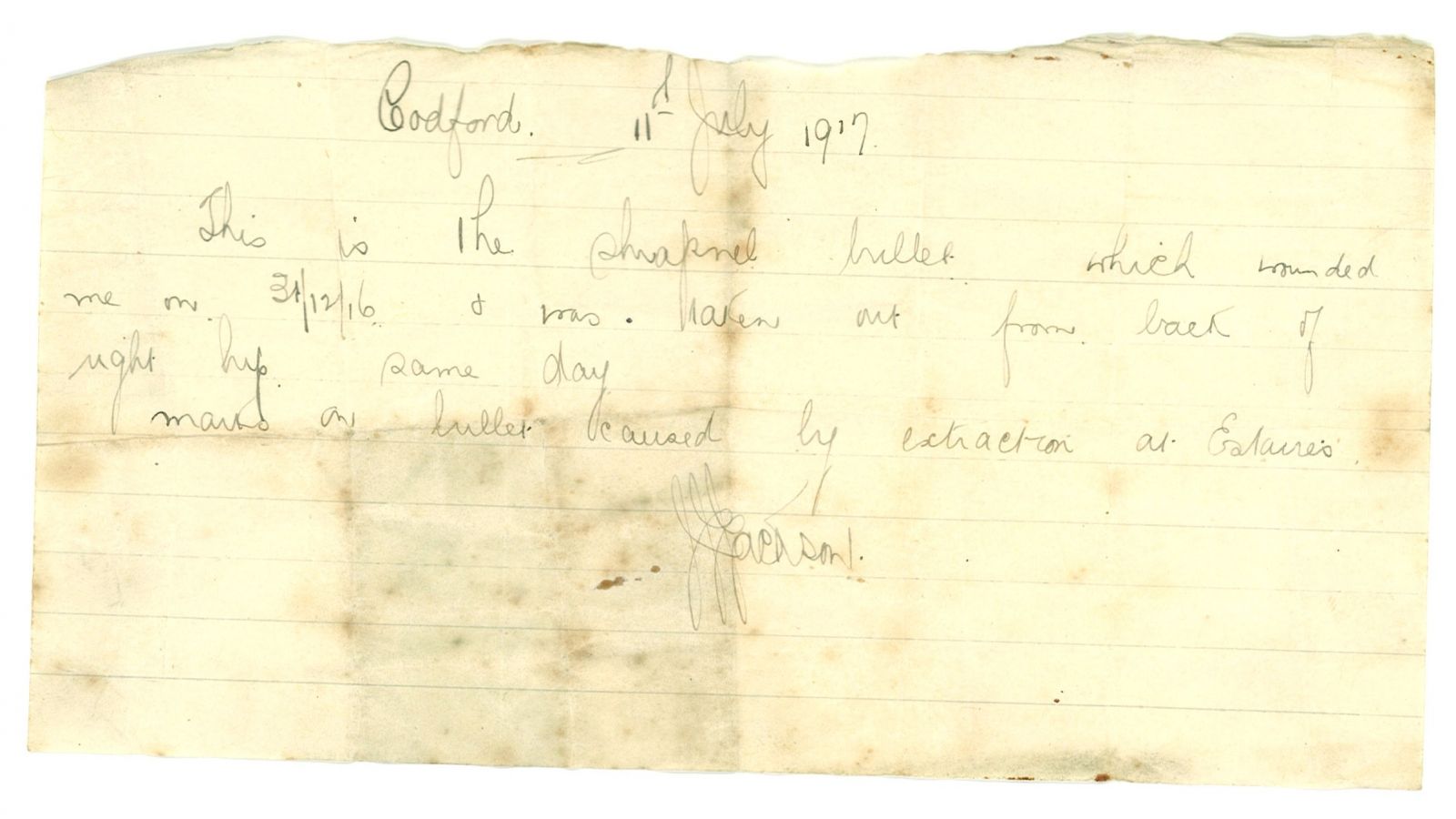 On New Year's Eve 1916, fighting on the Western Front, Jack had been hit in the right hip by shrapnel from an artillery round. After passing through the hands of the local regimental aid post and advanced dressing station he was taken to the 1st Australian Casualty Clearing Station, where the shrapnel ball was extracted from his right buttock. Four days later he was admitted to hospital in Boulogne.
Evacuated to England two weeks later, Jack received further treatment at No.1 New Zealand General Hospital at Brockenhurst, Hampshire, before being transferred to the New Zealand Convalescent Hospital at Hornchurch, Essex.
While recovering, Jack wrote many dozens of letters and postcards to his family and fiancée Hilda Cliff. He turned photos of himself and his mates into postcards, sometimes signing off with "Kia Ora". In a postcard to Hilda, he wrote: "my wound is doing well and is no trouble at all". But it was severe enough to end his days as a soldier and a sportsman.
No longer able to run, Jack was classified as physically unfit for frontline service on his discharge from Hornchurch. Sent to the New Zealand Rifle Brigade Reserve Depot in Brocton, Staffordshire in June 1917, he worked as a kitchen hand, instructor and military policeman, among other things. At the end of the war he was sent home aboard HMNZT Maunganui, which docked in Auckland on 9 January 1919. Jack was greeted with hugs by his overjoyed family.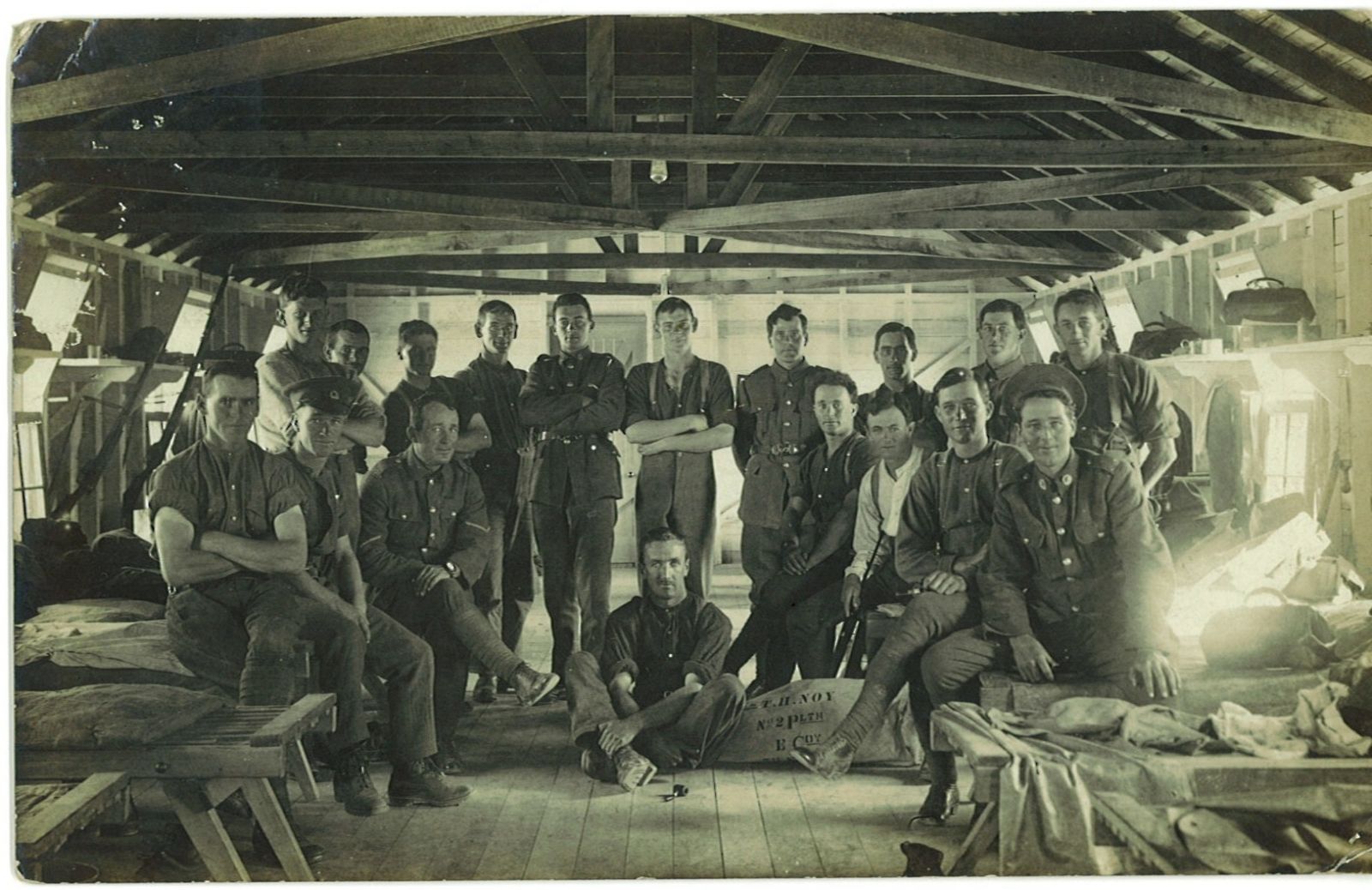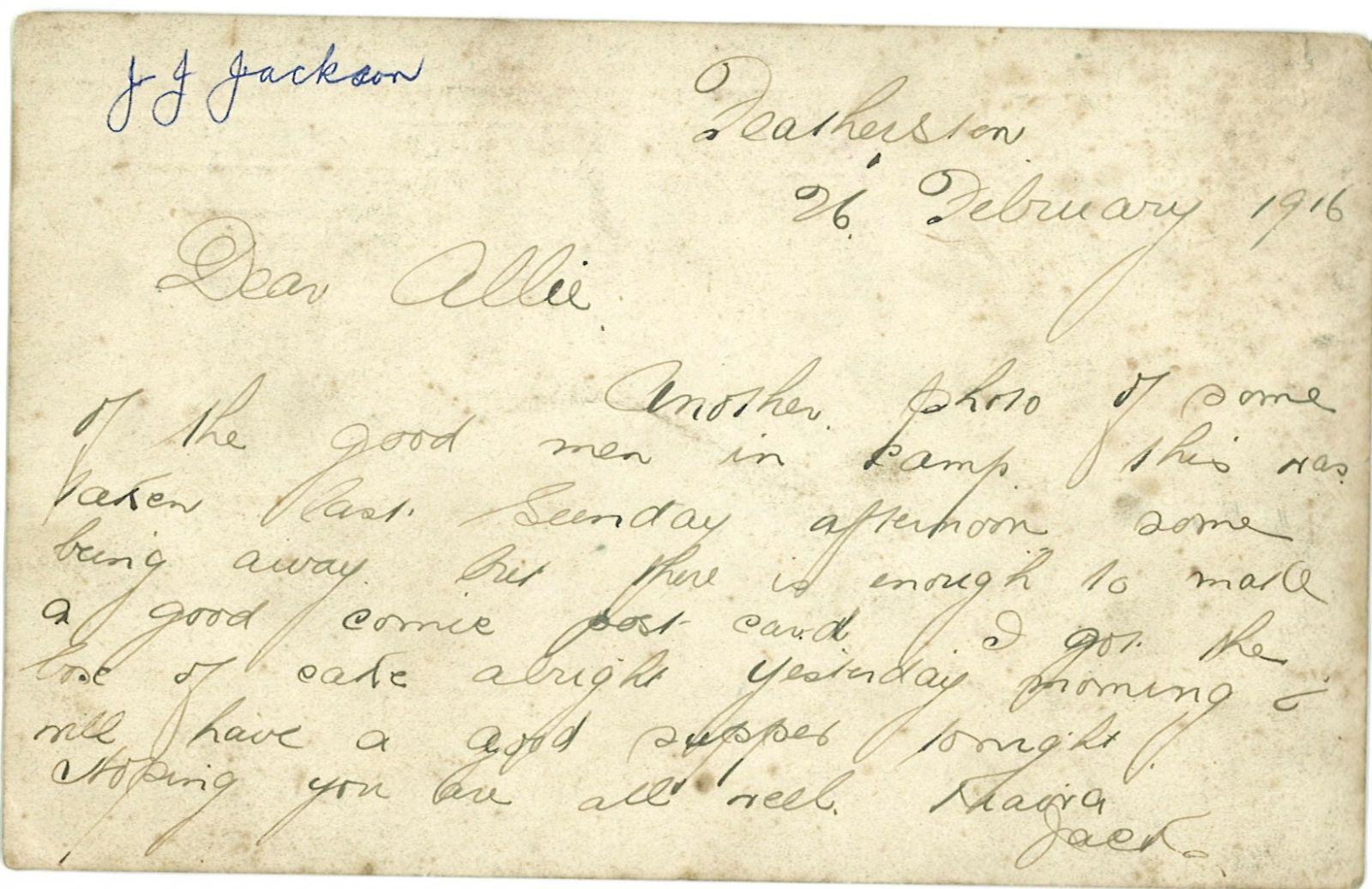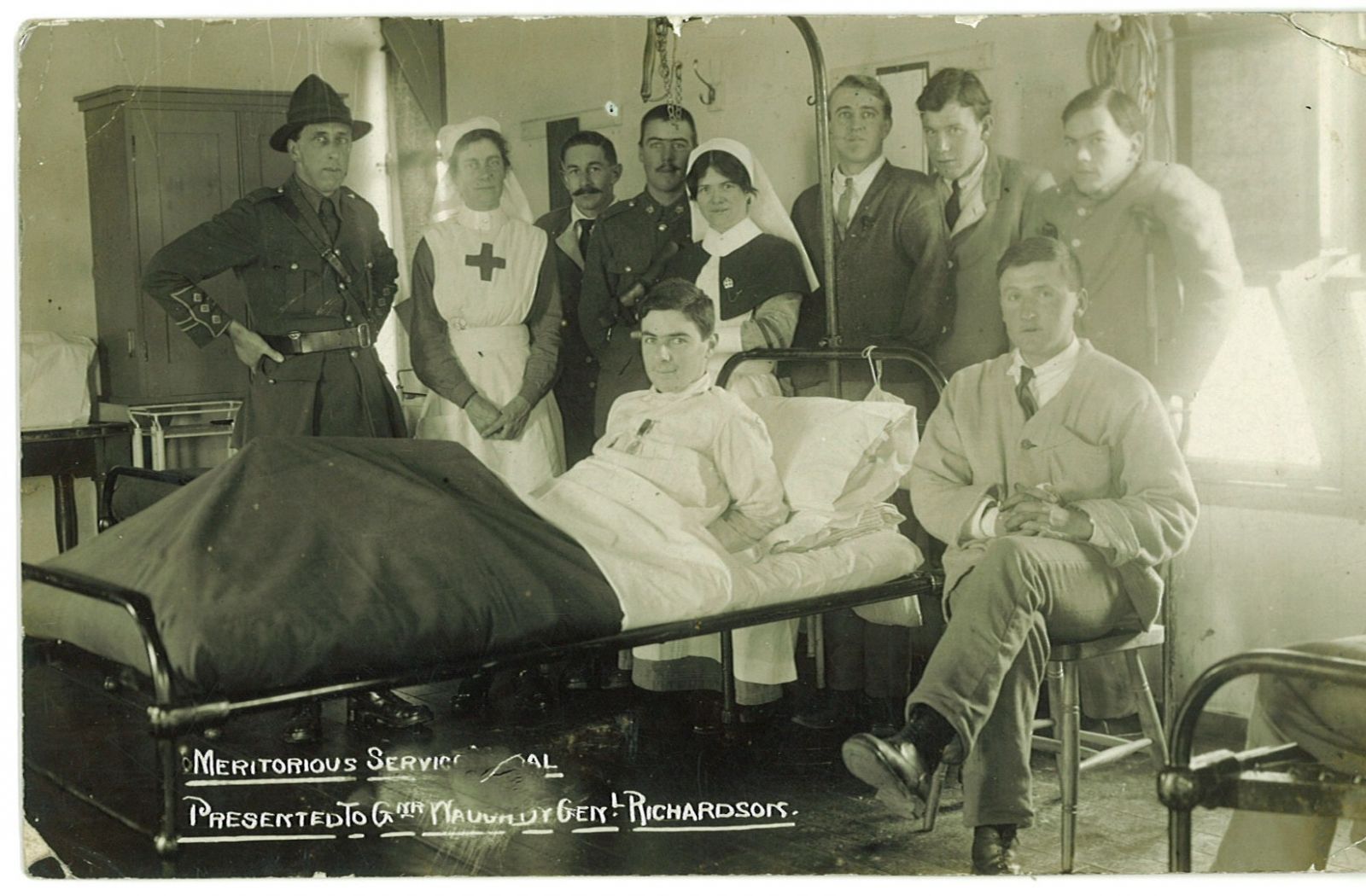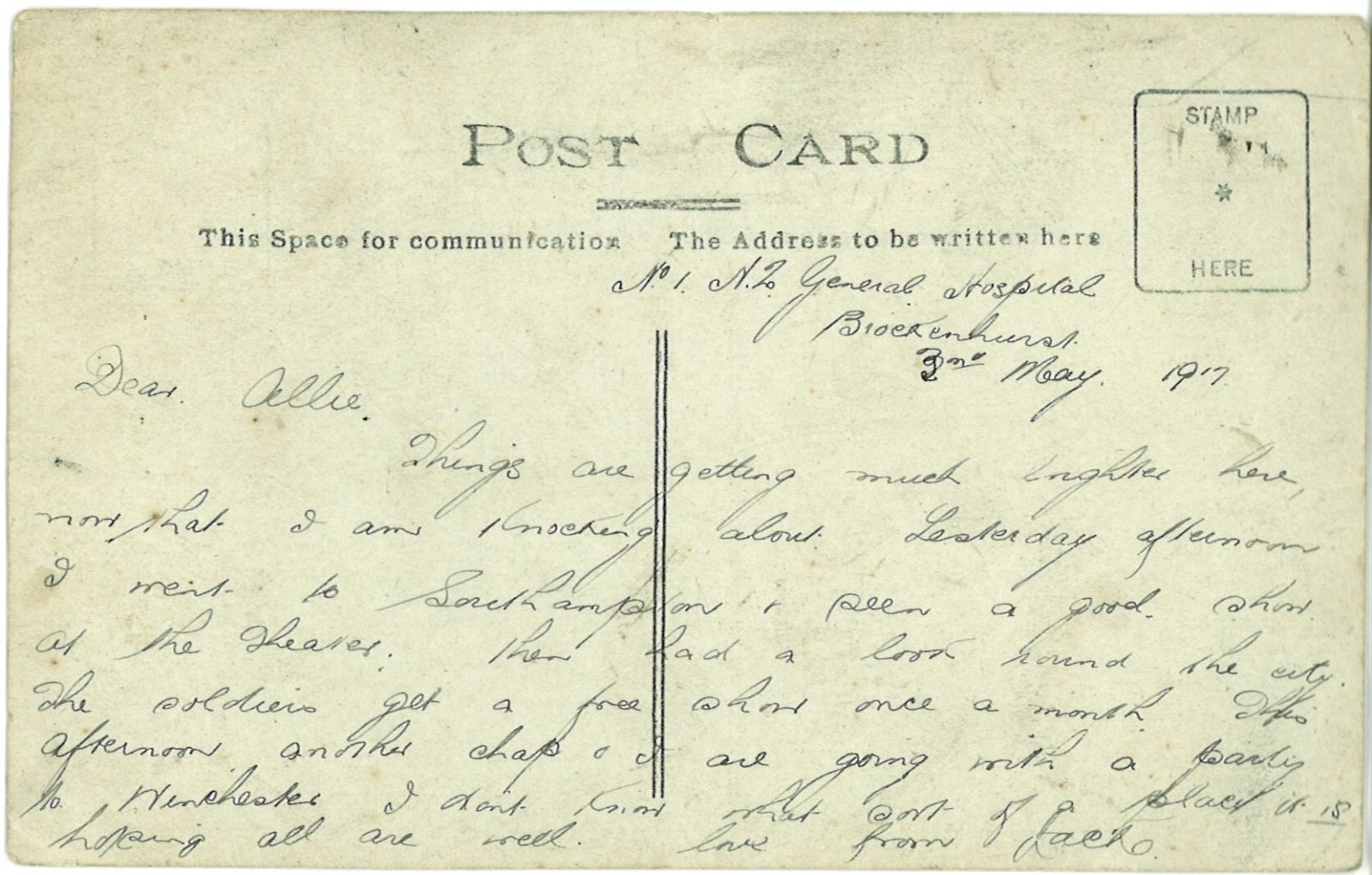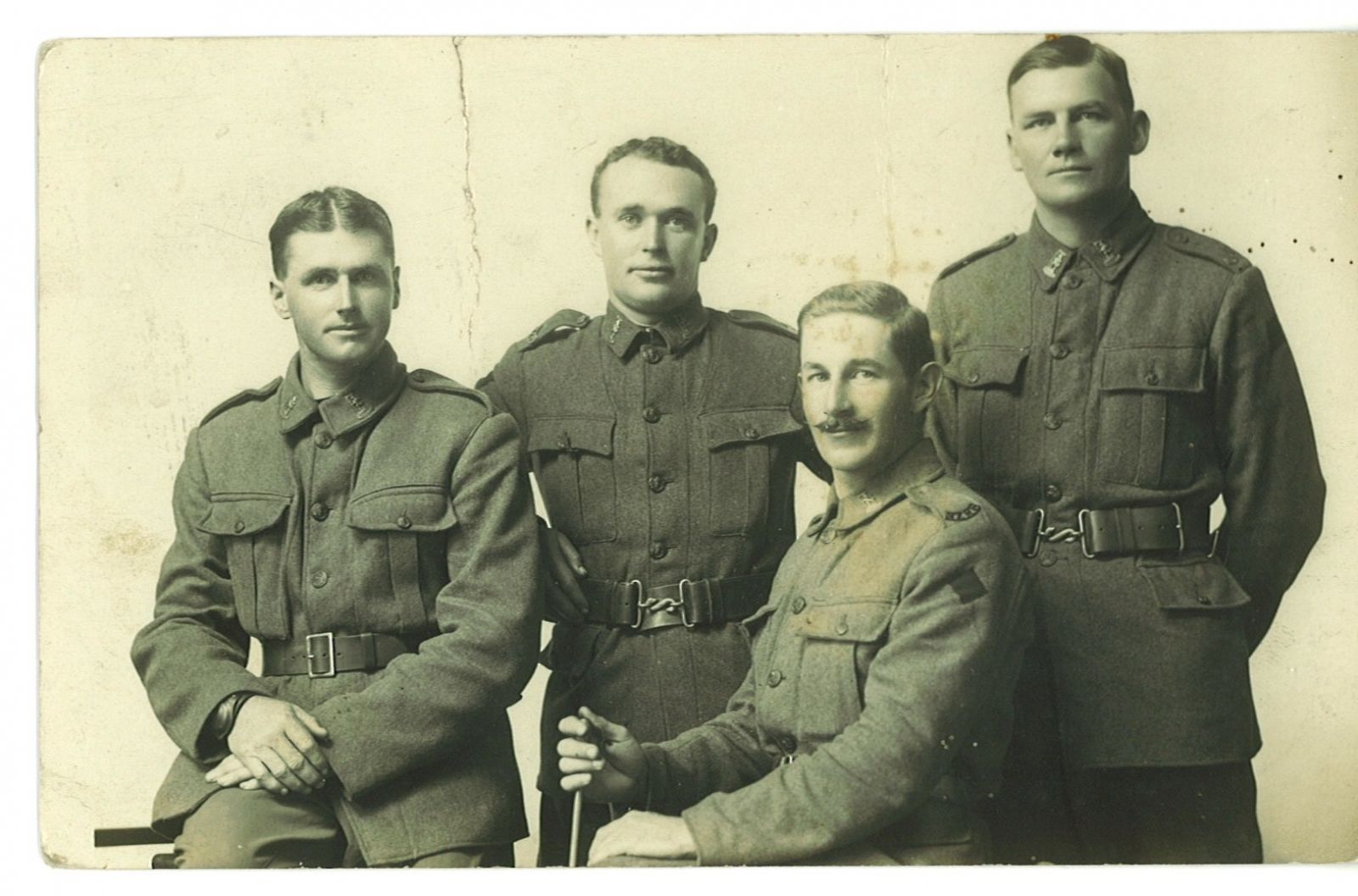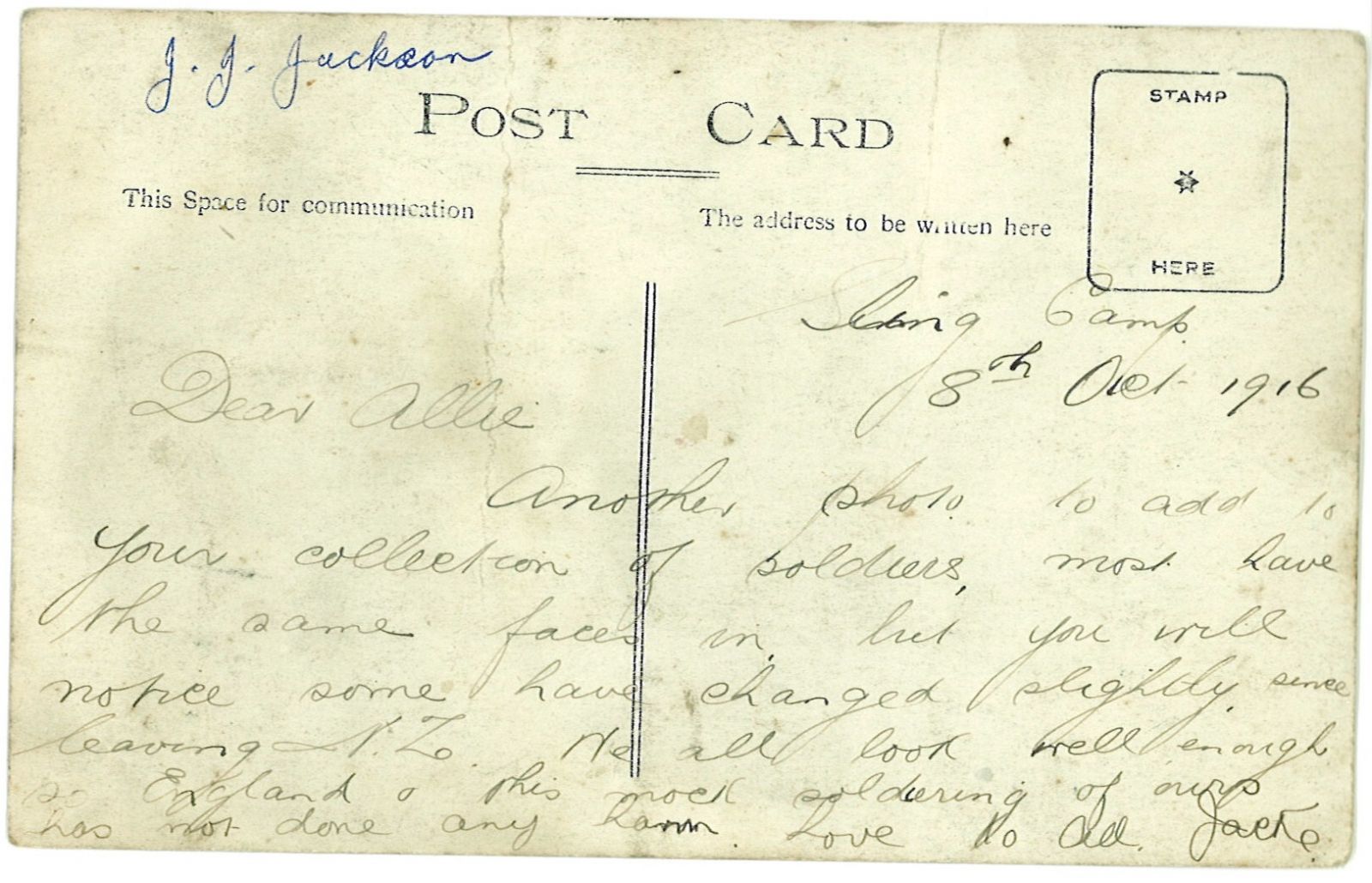 Jack and twin sister Alice were born in Helensville on 4 October 1891 to British immigrant John James Jackson and Irish immigrant Mary Jackson. Growing up in Te Kopuru, near Dargaville, with 'Allie' and their younger sister Winifred, Jack won prizes for swimming, rugby and athletics.
Leaving school aged 15, he joined the Kauri Timber Company – the major employer in the area – as an office cadet, but envied his friends who earned more money in the timber yard. Soon he was promoted to accountant.
On 12 January 1916, aged 24, he volunteered to join the New Zealand Expeditionary Force (NZEF) and began his basic training at Trentham Camp, Upper Hutt. He was assigned to the 12th Reinforcement draft and posted to 'E' Company with the rank of 'rifleman'.
E Company was made up of infantry reinforcements destined for the New Zealand Rifle Brigade, a new formation in the NZEF that drew on the traditions of British rifle regiments which could trace their heritage back to the Napoleonic Wars. One of these traditions was the use of the term 'rifleman' instead of 'private'.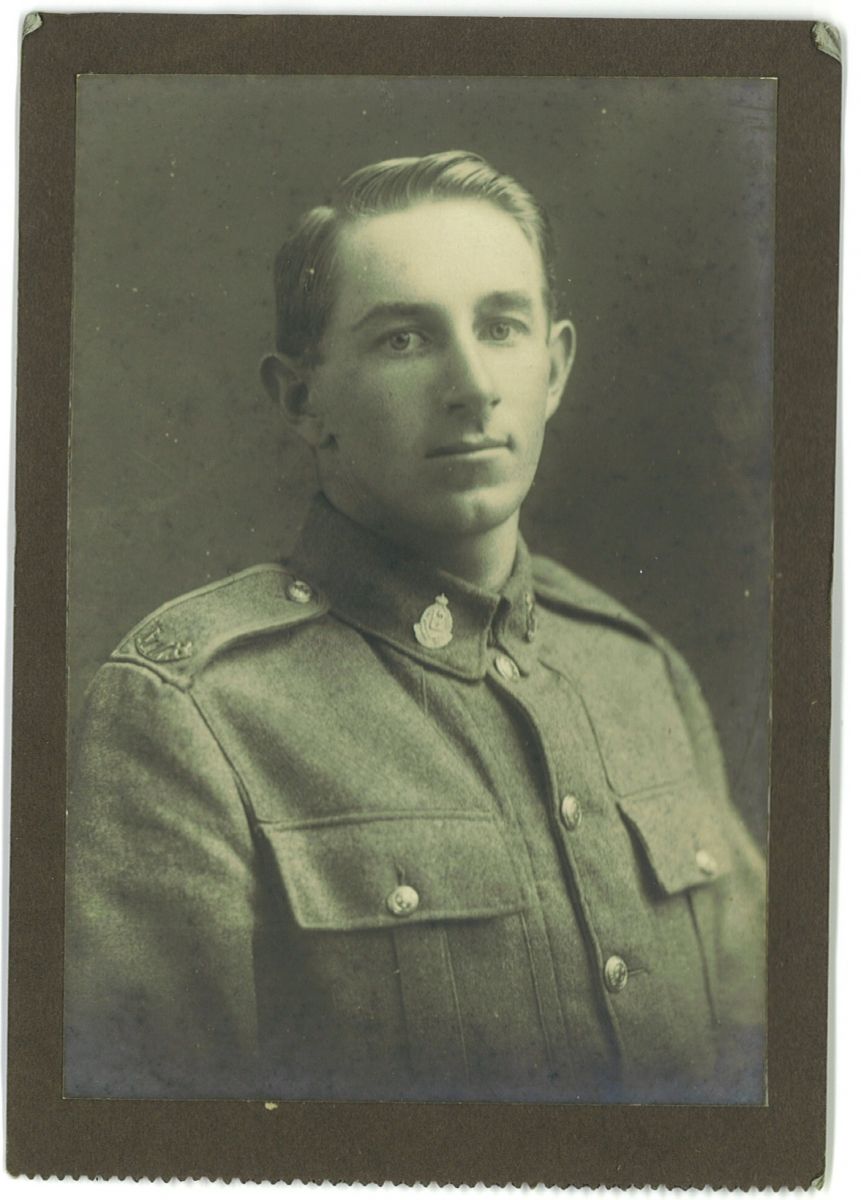 On 1 May 1916, Jack left Wellington on board HMNZT Ulimaroa. After two weeks in Cairo, the journey – and his terrible seasickness – continued.
After three months of further training in England, Jack was sent to the New Zealand Infantry and General Base Depot in Étaples, France. Three weeks later, on 8 December, he finally reached the front and joined 'A' Company, 1st Battalion, The New Zealand Rifle Brigade, as a replacement.
The 1st Rifle Battalion, along with the rest of the brigade, was manning trenches in the Boutillerie Sector, just south of Armentières in Flanders. By the standards of the Western Front this was a relatively 'quiet' sector – no major attacks were planned or expected.
Two days after Jack arrived, A Company was hit by a night-time German trench raid. German trench mortars rained bombs down upon the New Zealanders in an attempt to cover the raiding party's assault, while German artillery pounded the communication trenches further back to try to isolate A Company's position.
The commander of the 1st Rifle Battalion had made sure his men were well-prepared to deal with any German raids and a pre-planned counter-attack supported by New Zealand artillery was immediately mounted. The German raiders were successfully driven off but not before they had overrun a Lewis Gun outpost leaving one rifleman dead and three others badly wounded. Welcome to the war, Jack.
Although Jack was not involved in a big battle like the Somme or Passchendaele, his experience of trench warfare – mundane routine punctuated by occasional trench raids and sporadic outbursts of intense shelling – was typical of New Zealand soldiers' time at the front. It also ended in a typical manner: 23 days' after joining the Battalion, Jack was hit by shrapnel from a random shell burst.
No one knows exactly how much he saw and exactly what he did during his time on the frontline. Like many men of that generation, Jack didn't talk to his family about the war, or how it affected him. But they think he saw service as both an adventure and a duty. "What's different between his generation and mine," says Jack's granddaughter Judy Bent, "is their sense of commitment and service to the country and the empire. To them it was our war not just Britain's war."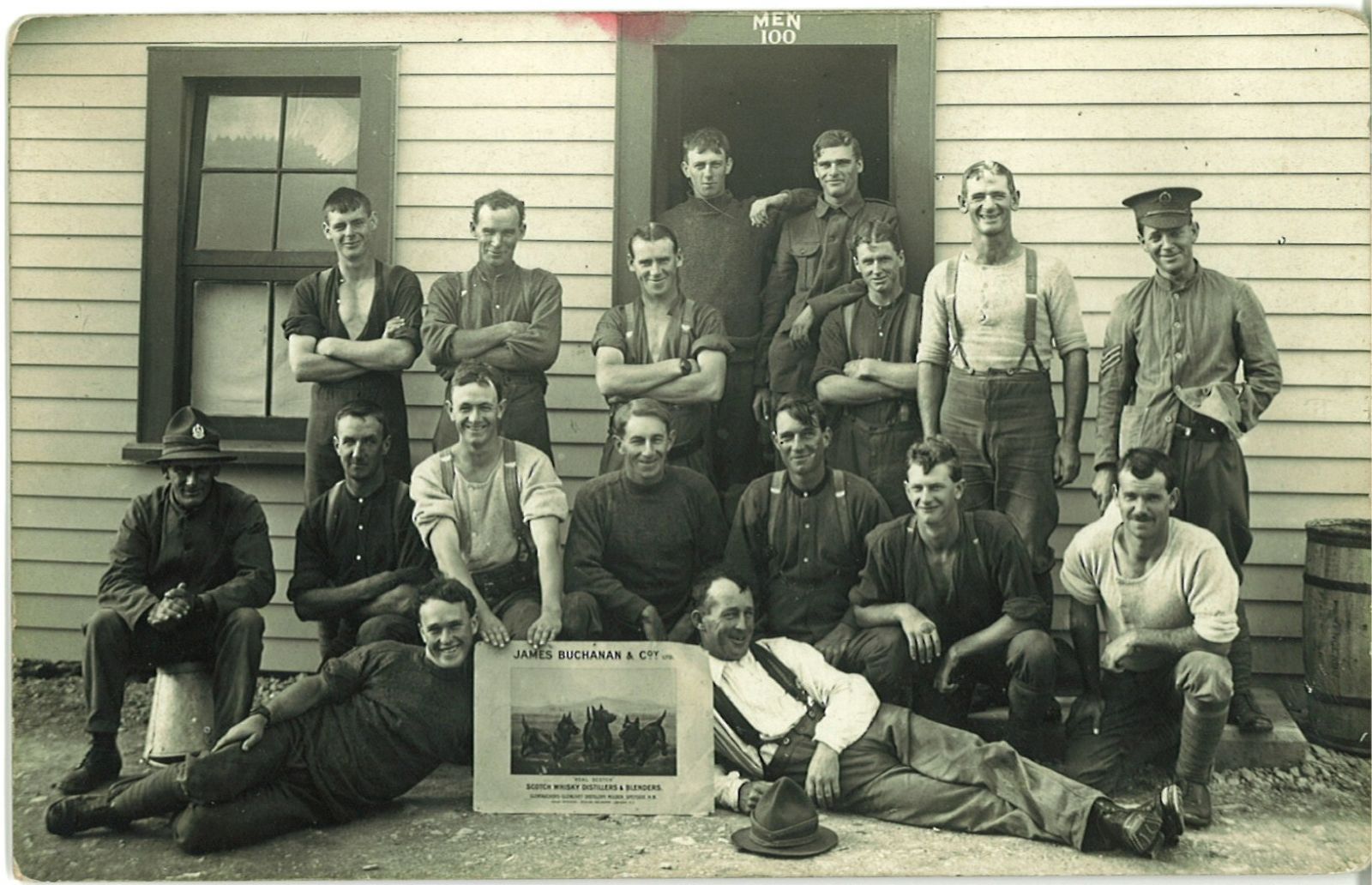 If that shrapnel had hit a little lower, there would have been no family. But Jack and Hilda married in April 1919, and soon welcomed daughter Maureen, then son Lowell.
Maureen, now 92, remembers her adored father's wound well. "He had a big hole where the bullet went in at the front of his right hip and another where it went out at the back. I could put my whole fist in it. We were told not to knock him or sit too close to him." Though her father didn't tell her war stories, she remembers that he sang war songs, stayed firm friends with fellow servicemen, and was a lifetime member of the Returned Services' Association (RSA).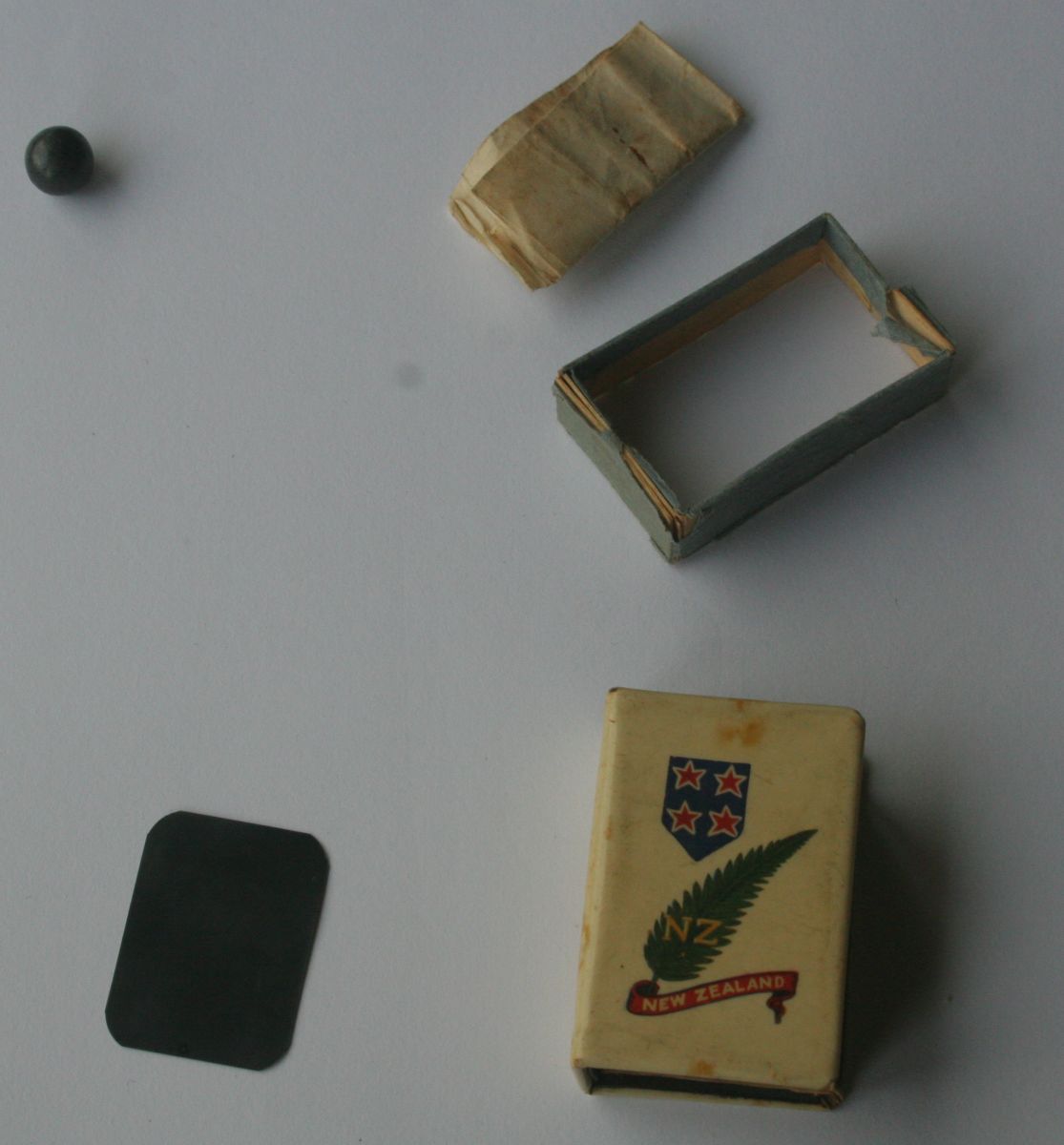 Jack had a job for life with the Kauri Timber Company, moving to Auckland in 1926 to join head office. He retired as managing director in 1958, but stayed on as an adviser. The Kauri Timber Company was taken over by Fletcher Building Ltd in 1961.
A keen bowler and gardener, Jack was also a community leader who served on industry, council, church, school, and sports associations. A few months after celebrating his diamond wedding anniversary, Jack died on 22 September 1974 just before his 83rd birthday. His ashes lie in the RSA section of the Papatoetoe cemetery.
Today Jack's great-grandson Michael Henry has the shrapnel ball, X-ray, and letter in the original matchbox. He plans to frame all three and hang them on his wall alongside Jack's 'Great War' service certificate. They'll be passed on to the next generation as a reminder of the risks taken and sacrifices made by men like John James Jackson.
Do you have personal stories of relatives who served in the First World War? Contact the Auckland War Memorial Museum, who are developing New Zealand's online memorial, the Cenotaph database.
Date added: 19 December 2013
|
Last updated: 04 February 2014