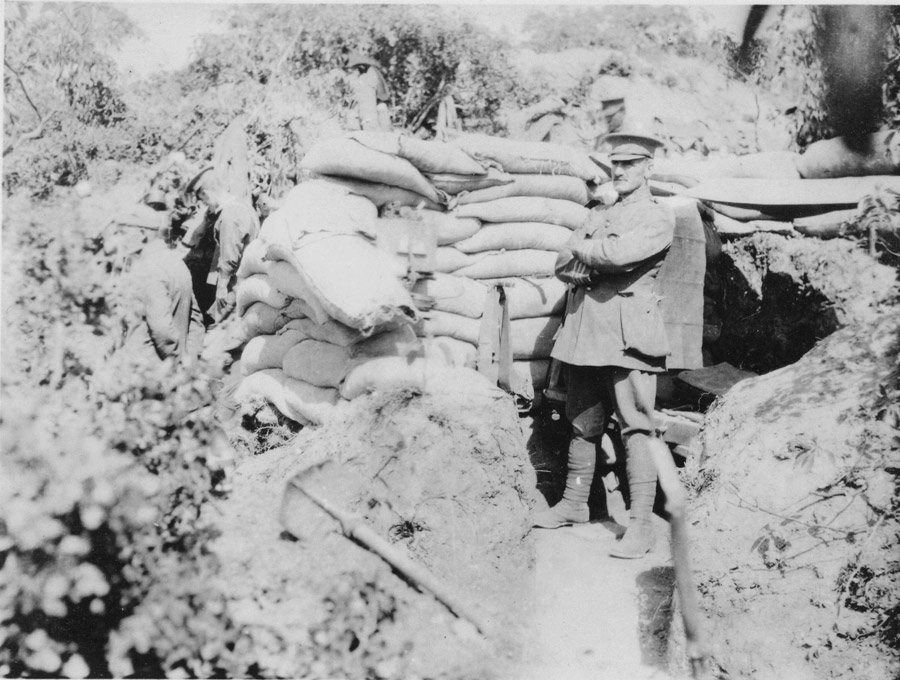 Lieutenant-Colonel William George Malone is now one of the best known New Zealanders to have fought at Gallipoli, but for many years few people outside his family knew of the moral and physical courage he showed during the campaign. In August 1914, when the First World War broke out, William Malone was a successful lawyer and farmer in the Taranaki town of Stratford. He was 55 years old and had seven children ranging in age from 25 to four years old. Two of Malone's sons, Edmond and Terry, fought at Gallipoli with the Wellington Mounted Rifles. His first wife died in 1904 and Malone later remarried 'Mater' to whom he was devoted. For years before 1914, Malone had been convinced that a major war would soon break out involving New Zealand and the rest of the British Empire. He was the highly regarded commander of the 11th (Taranaki Rifles) Regiment of the Territorial Force, and in August 1914 was selected to command the Wellington Infantry Battalion of the New Zealand Expeditionary Force.1
Like most soldiers, Malone was worried before the landing at Gallipoli that he might not be able to cope with combat. He was relieved to discover that his nerve did not fail him, writing four days after the landing that:
Last night I had a close call. I was reconnoitring with General Walker and the snipers were trying to get us. At last a bullet just cut my hair on the back of my neck, and goodness knows it is short enough. Still it wanted cutting! So this morning I got one of my orderlies to finish the job. I am glad to say my nerve is quite allright [sic] . . . I have had and have no inclination to duck which I thought everyone had. Any amount of good men about do so at every near burst. I thank my regular life. I was inclined to think that I was too high strung to stand the racket of real hard war. It is not so. Dreadful things are all round – yet no dread. It seems the same with all of us.2
As a battalion commander, Malone was responsible for the lives of more than 1,000 men. He was a demanding commander who always wanted his unit to be the best, yet Malone remained devoted to his men. After the chaotic and fierce fighting of the first two days at Gallipoli he wrote in his diary that:
…wounded men were being brought back in scores . . . and left on track no stretchers being available. They were all very brave. No cries or even groans, one man kept saying "oh Daddy oh Daddy" in a low voice. . . My men are wonderful. The world never saw better men or braver.3
To do his job Malone had to stay in constant contact with the headquarters of the New Zealand Infantry Brigade. This meant that during battles he was tied much more than he liked to his headquarters and its vital telephone line. Nonetheless, Malone was often in the front line. During the Second Battle of Krithia he took the commander of the Otago Infantry Battalion up to the front line to show him the best way to move his troops forward:
A bullet passed between our heads and went right through the lobe of his ear. I must be more careful though as the loss of officers is getting very serious.4
During the course of the campaign on Gallipoli, Malone became increasingly disenchanted with his immediate superior, the commander of the New Zealand Infantry Brigade, Brigadier-General Francis Earl Johnston. He was willing to challenge Johnston's poor planning and lack of tactical sense. After a meeting to discuss plans for the August offensive at Gallipoli, Malone wrote in his diary that:
The Brigadier will not get down to bed rock. He seems to think that a night attack and the taking of entrenched positions without artillery preparation is like "kissing ones hand". Yesterday he burst forth "If there's any hitch I shall go right up and take the place myself". All as it were in a minute and on his own! He says "there's to be no delay". He is an extraordinary man. If it were not so serious it would be laughable. So far as I am concerned the men, my brave gallant men, shall have the best fighting chance I can give them or that can be got. No airy plunging and disregard of the rules and chances.5
Malone was as good as his word. On 7 August the Auckland Infantry Battalion suffered 300 casualties in a doomed attack on Chunuk Bair, one of the crests on the Sari Bair range which were the objectives of the Allied offensive. It appears that Johnston then ordered Malone and his battalion to repeat the suicidal attack. Malone in an act of great moral courage refused to follow this order. A soldier apparently overheard him arguing with Johnston saying that he was "not going to ask my men to commit suicide" and stating that his battalion would capture Chunuk Bair once it was dark.6
Early the following morning Malone and Wellington Battalion assaulted and captured Chunuk Bair. Once it was lighter the New Zealanders, and the British troops who were supporting them, were subjected to fierce fire from Ottoman positions that overlooked their positions. Then, at about 6am, the Ottomans launched the first in a series of strong counter-attacks. They succeeded in driving the New Zealanders out of their forward trench. The Wellingtons were left hanging on desperately in a shallow trench, just below the crest of the hill on its seaward side. Malone and his small headquarters team were located in a small trench just behind the new Wellington Battalion line. From there he directed the defence of Chunuk Bair in furious fighting that raged all day. He was the heart and soul of the defence. One soldier later reported: "there [on Chunuk Bair] I saw the bravest men I ever saw, Colonel Malone, who was doing the jobs from Lance Corporal to Brigadier General".7 Normally a battalion commander would not lead bayonet charges, but this is exactly what Malone did on several occasions when the position of his force was gravely threatened. A British officer who fought with Malone recalled how he and Malone:
joined the lads in front . . . I had my revolver and a handful of cartridges and Col M[alone] seized up a rifle and bayonet as he went. The Wellingtons seem to rise up each time from nowhere, and the Turks were hurled back; in the first of these attacks the bayonet on Col M[alone]'s rifle was twisted by a bullet, . . . after this he kept it with him, as he said it was lucky.8
At other times: "Armed only with an entrenching tool, he had time after time, dashed in among the firing line when the Turks threatened to break through, encouraging his men with his words and example. He was firmly resolved that the Regiment would rather perish than yield the hill".9 Many years after the war, a Wellington Battalion veteran could clearly recall how Malone "was here and there, everywhere encouraging the troops, exposed himself to enemy fire and showing tremendous courage".10
At about 5pm Malone was killed by shrapnel from an artillery shell, probably fired by a Royal Navy warship or a New Zealand howitzer. A few hours later the Wellington Battalion was relieved and withdrew from Chunuk Bair. The Wellington Battalion had been destroyed. Fewer than 10 percent of the 760 men who had seized the hill in the morning walked off Chunuk Bair. William Malone has no known grave and, like those of more than 300 of his men, his name is recorded on the New Zealand Memorial to the Missing on Chunuk Bair. He had gone into the battle expecting to die. On the eve of the offensive he wrote to his wife that:
I am prepared for death, and hope that God will have forgiven me all my sins.

My desire for life, so that I may see and be with you again, could not be greater, but I have only done what every man was bound to do in our country's need. It has been a great consolation to me that you approved my action. The sacrifice was really yours. May you be consoled and rewarded by our dear Lord.11
Malone's good service at the start of the Gallipoli campaign had been recognized in May 1915 with a mention in dispatches.12 Around this time it appears that he was also recommended for the award the Distinguished Service Order (DSO). It is typical of Malone that after he learnt of the recommendation he wrote to his wife that "I am sure, I was going to say I think, you will be glad to know this. I can't say that I feel that I deserve it. I did my job and worked hard, as I hope I always do and will".13 Because the DSO could not at that time be given posthumously, it is probable that Malone's DSO never eventuated because he was killed before the necessary administrative work had been completed. After his death Malone was mentioned in dispatches for a second time. Because of the way the honours system operated in 1915, the only awards that Malone could have received posthumously were a mention in dispatches or the Victoria Cross. From what we know of Malone's conduct on Chunuk Bair the award of the British Empire's highest award for gallantry would have been appropriate. There are, however, strict rules about the evidence required before a Victoria Cross can be awarded and, in addition, the commander of the New Zealand Expeditionary Force, Major-General Sir Alexander Godley, was personally opposed to officers receiving the Victoria Cross.14 Only a very few of the many members of the Wellington Battalion who behaved with great bravery on Chunuk Bair were subsequently recognised by the award of gallantry decorations. This caused a great deal of bitterness amongst surviving members of the battalion.15
Johnston's report on the operations of his brigade during the August Offensive substantially downplayed the achievements of Malone and his battalion. For many years Malone's outstanding leadership and extraordinary courage were known to only a few people, but in recent years, in large part thanks to the detailed diary he kept and many letters he wrote during the campaign, it has become widely recognized that William Malone was a hero and a great New Zealander.
Footnotes
1. John Crawford with Peter Cooke eds., No Better Death: The Great War Diaries and Letters of William G Malone (2nd edition, Auckland: Exisle, 2014), 19-38.
2. Ibid., diary entry 29 April 1915, 169.
3. Ibid., diary entry 27 April 1915, 166.
4. Ibid., diary entry 8 May 1915, 182.
5. Ibid., diary entry 4 August 1915, 294.
6. Ibid., 307.
7. K.M. Stevens quoted in Harper and Richardson, 90.
8. W.H. Hastings quoted in No Better Death, 316
9. W.H. Cunningham, C.A.L. Treadwell, J.S. Hanna, The Wellington Regiment NZEF 1914-1919, Wellington, 1928, 75.
10. No Better Death, quoting Daniel Curham, 320.
11. Ibid., Malone to wife, 8.10 pm 5 August 1915, 297.
12. London Gazette, 5 August 1915, 7669.
13. No Better Death, letter to Mater/Ida, 27 May 1915, 220.
14. Glyn Harper and Colin Richardson, In the Face of the Enemy: The Complete History of Victoria Cross and New Zealand (Auckland, 2006), 89-90.
15. Cunningham to Hughes, 23 February 1916, MS-Papers-4192, ATL; No Better Death, 320.