30 October 2018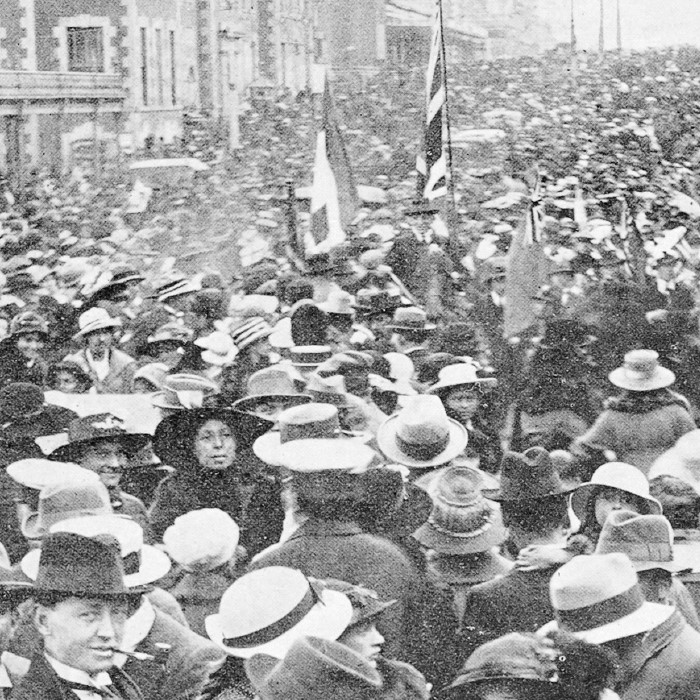 New Zealanders are responding on land and at sea to WW100's call to create a Roaring Chorus to mark the centenary of the Armistice that ended the First World War in 1918.
At 11.02am on Sunday 11 November 2018, a cacophony of joyful noise will break the two-minute silence of remembrance being observed nationwide at 11.00am, recapturing the newfound peace and hope for the future that the signing of the Armistice brought.
There are multiple community commemorations nationwide incorporating a Roaring Chorus in various ways, including vintage car horns, a mine siren, songs, drumming, cheering, church bells, and even fire sirens and ship horns.
Director of the First World War Centenary Programme WW100, Sarah Davies, says, "The Roaring Chorus invites communities to break the silence in a way that is relevant to them, and it is great that so many communities and organisations are joining the campaign.
"After four years of remembrance, we can now reconnect with the sense of joy and relief that swept the county when news of the end of fighting came through. The thanksgiving and jubilation overwhelmed the New Zealanders who had endured so much hardship and loss since 1914."
Work and school was abandoned for the day, and the streets of towns and cities filled with thousands of people coming together in spontaneous celebration. The Evening Post in 1918 described the scene in Wellington: "There were songs and cheers, miscellaneous pipings and blastings, and tootings and rattlings—a roaring chorus of gladsome sounds."
An historic account from nurse Isobel Haresnape, which features on the WW100 Programme Office YouTube channel, describes the celebrations on Queen Street as: "…a tremendous noise of sirens and bell ringing, and voices and feet running…strangers kissed strangers. Everyone was dancing to the bands. People [were] very hysterically excited, really. Everyone was wanting to know what it was all about, and I was one of them, and I heard someone say "It's peace!"
New Zealand's Roaring Chorus will feature a fanfare played by the bells of the National War Memorial Carillon at 11.02am during the official Armistice Centenary National Ceremony in Wellington.
The public is invited to bring instruments, horns, bells, hooters and noise-makers to make a Roaring Chorus at the Auckland's Armistice Day Centenary Service at the Auckland War Memorial Museum, where tens of thousands of people are expected. Similar invitations are being made by the Grey Lynn RSC, and the Horowhenua District Council for their Armistice Day Services in Levin and Foxton. In Hokitika, the noise will be explosive with the Hokitika Westland RSA and Westland District Council's event featuring the firing of a cannon and period SMLE rifles.
Fire and Emergency's contribution will involve available fire appliances sounding their sirens from station forecourts nationwide.
Maritime New Zealand is inviting vessels in New Zealand waters to sound their horns in commemoration of the troopships, merchant ships, warships, hospital ships and all other vessels involved in the war.
Wellington Harbourmaster Grant Nalder says horns are expected to sound from the HMNZS Canterbury, Bluebridge Cook Strait Ferries, and various commercial and recreational ships including the tugboats and the Wellington Police Maritime Unit's Lady Elizabeth IV. Harbourmasters and port companies in other towns have also been invited to have vessels in their ports join the Roaring Chorus.
Newspapers of the time reported trains tooting their horns at news of the Armistice. Trains – also a vital transport mode in the First World War – will be represented with KiwiRail's scenic and freight services sounding their horns. KiwiRail's Interislander ferry service will also take part.
Many churches and cathedrals with bell-towers throughout New Zealand will be ringing out, some with fanfares for up to 45 minutes, connecting with international bell-ringing campaigns marking the centenary of peace in the UK, Germany and the USA.
New Zealand Police will acknowledge the event with police car sirens, should circumstances allow.
The 106-year-old TSS Earnslaw and invited RSA members will recreate the tooting of its predecessor steamship Ben Lomond on Lake Wakatipu, described in historic accounts as heralding the news with its ship horn.
Schools nationwide have been invited to participate in the school week prior to the Armistice Centenary during assemblies. 
Armistice Centenary events with a Roaring Chorus are at WW100.govt.nz/topic-tags/roaring-chorus
For information on how you can participate in the Roaring Chorus, visit WW100.govt.nz/roaring-chorus
Ends
For information, images and interviews contact the WW100 communications team: