A centre for learning in Pukeahu National War Memorial Park in Buckle St, Wellington.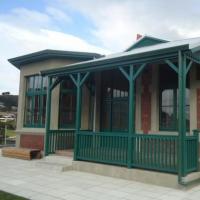 Manatū Taonga - Ministry for Culture and Heritage has established a new education centre in Pukeahu National War Memorial Park in Buckle St, Wellington. The centre will provide a home for the Pukeahu education programme which offers school students and other visitors with opportunities to remember, interpret, reflect and understand New Zealand's experience of war.
The Education Centre is housed in the former Home of Compassion Crèche, the first purpose-built crèche in the country, which was built in 1914. In 2014 the building was moved 15 metres from its original position near the Basin Reserve, earthquake strengthened and the exterior restored. (Watch a video of the building's move on YouTube.)
In June 2016 the New Zealand Government gifted the Education Centre to Her Majesty the Queen to mark her 90th birthday celebrations, and it was formally named as the Queen Elizabeth II Pukeahu Education Centre.
The education programme at Pukeahu was launched in April 2015, to provide visiting school children with an experience that incorporated the Great War Exhibition, the National War Memorial, the Tomb of the Unknown Warrior and the park itself. The education programme has proved popular with schools, with over 12,000 student visits in its first year. The new space provided by the refurbished Education Centre means presentations, discussions and creative activities such as wreath-making can now be held in a classroom environment. Visual/digital presentations or online research can be provided either in the classroom or research room.