By:
Imelda Bargas - Senior historian at the Ministry for Culture & Heritage
Did you know that New Zealand troops began to return from overseas from as early as 1914 and that the last men didn't return until 1921? Historian Imelda Bargas compares how these returning soldiers were welcomed home.
---
15 July 2015 marked the centenary of the return to New Zealand of the first large group of Gallipoli wounded on the Willochra. These repatriated soldiers – who were seen as having paid 'in bodily suffering for the glory and safety of their country' – were given an enthusiastic reception at their first port of call, Wellington, in the other main centres and once they reached their home towns. They were even feted as they travelled home north or south. The specially outfitted 'Red Cross train', which took home men bound for Auckland and other North Island areas served by the Main Trunk Line, was greeted along the route by cheers, and where the train stopped, by gifts and refreshments. Similarly impressive welcomes went to the men who returned by the country's hospital ships in 1916 and the first large group of fit Main Body men and men of the Maori Battalion in 1919.
But did you know that New Zealand troops began to return from overseas from as early as 1914 and that the last men didn't return until 1921? How did their homecoming compare to that received by the men on the Willochra and other 'worthy', representative or large drafts?
The first men to return to New Zealand from war were members of the Samoan Advance Party. Twenty-one men deemed medically unfit arrived in Wellington on the troopship Moeraki in early September 1914. Another 70 mostly fit men arrived in Auckland on the troopship Monowai a few days later. Newspapers reported these events widely, as the men brought back first-hand accounts of the voyage to and capture of German Samoa. They received little by way of formal welcome. Public attention was focused on the anticipated departure of the Main Body to the northern hemisphere, and these men had been away for less than one month.
Most of the men who returned from Samoa on the Moeraki were suffering from mild complaints; 'bad teeth, sore feet, etc'. Albert Hanlon of Wellington had a bunion. But some had serious ailments. Laurie Collins of Auckland was found to have epilepsy, a condition that had been overlooked during the hasty medical examinations undertaken before the Advance Party's departure in August 1914. For a number of this first group of men, the return voyage to Apia was the beginning and end of their war. Others went on to serve at Gallipoli, in the Middle East or on the Western Front. Thomas Fordyce of Auckland, for example, went to Egypt in mid-1915 but was invalided home in mid-1916. Francis Hatwell of Hawke's Bay was killed in action on the Somme in France on 24 April 1918.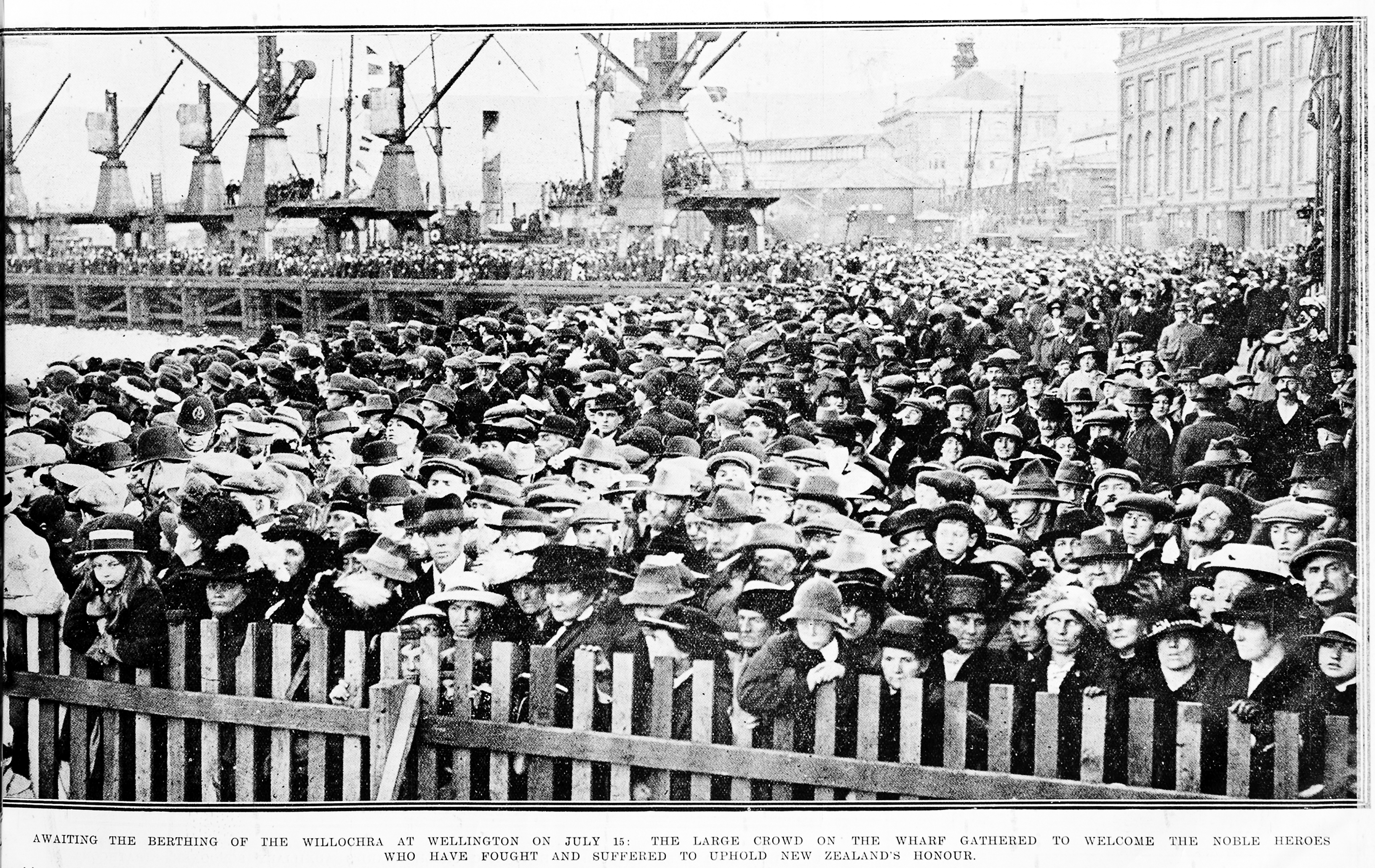 The very last men to be officially repatriated after the war – some severely wounded and still recuperating and some who were responsible for tying up loose administrative ends at NZEF headquarters in London – returned to New Zealand in 1921. Like the men on the troopships Moeraki and Monowai they received little or no formal welcome but for very different reasons. They returned some years after the bulk of the country's troops, arriving individually and largely unnoticed by the public at large.
One of these men Clifford Edwards, who had sustained a gunshot wound to his arm and knee in France in March 1918 but recovered and served at New Zealand Military Headquarters in London from 1919 to 1921, returned on the Tainui in March 1921. His name was simply noted alongside those of other passengers on the voyage. Another of these men, Alfred Corey, who had sustained a gunshot wound to the head in France in September 1918 and lost his sight as a result had his return noted in the Press. He, like Edwards, travelled alongside ordinary passengers, returning on the Corinthic in September 1921. 
Comparing the welcomes these men received to those received by the men on the Willochra is telling of the homecoming experiences of many New Zealand troops. 'Homecomings' had little to do with individual service or sacrifice. Those who returned because of illness – or misconduct – at the same time as 'worthy', representative or large drafts, such as the Willochra, found themselves part of welcomes extended to these groups. Those who returned in drafts associated with illness or misconduct, or came back individually or in small drafts, such as the men on the Moeraki, generally missed out on such welcomes.
To learn more about the return of troops to New Zealand from 1914 to 1921, how New Zealanders welcomed various arrivals, and little we know of what the men thought of their welcome, visit NZHistory's First World War homecoming feature.
Date added: 10 July 2015
|
Last updated: 15 January 2016