02 November 2018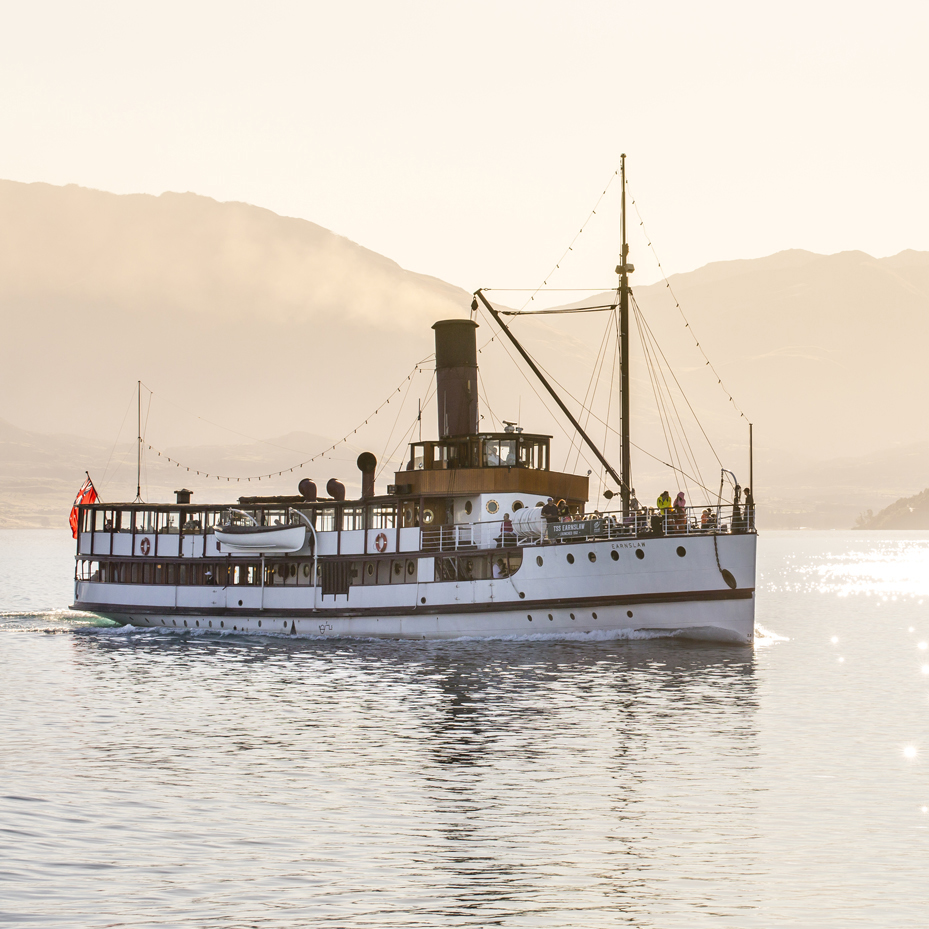 The TSS Earnslaw is set to make a touching tribute to the Armistice Centenary Roaring Chorus, and it is all because of a letter written by a young Kinloch girl to the children's column in her local newspaper a hundred years ago.
Writing under the pen-name 'Mountain Gentian', she described the moment she received news of the signing of the Armistice that ended the First World War: "The steamer Ben Lomond began to whistle coming up the lake when the news of peace came through. Mum got the cowbell and I got the school bell, and we made a great noise with them." (Dot's Little Folk, Otago Witness, 27-11-1918)
On Sunday 11 November, Real Journeys is recapturing the scene with a special trip aboard its 106-year-old steamship TSS Earnslaw that will be attended by thirty guests from the Queenstown and Arrowtown Returned Services Associations.
Co-founder of Real Journeys, Olive, Lady Hutchins, now aged 93, will also attend. Her late husband, Sir Les Hutchins, was knighted for his services to conservation and tourism.
Guests will be served morning tea as they cross Lake Wakatipu, before the TSS Earnslaw toots its horn eleven times at 11.00am and stops to observe a Two-Minute Silence of remembrance. At 11.02am celebratory tooting for the Roaring Chorus will follow, along with the national anthem and a singalong around the on-board piano.
Real Journeys General Manager Paul Norris says it is fitting that the TSS Earnslaw is involved in the Roaring Chorus. "The steamship is such a tangible link with the past. Originally owned by New Zealand Railways, she worked through the war serving the remote farming communities around Lake Wakatipu."
New Zealanders are responding on land and on water to WW100's call to create a Roaring Chorus to mark the Armistice Centenary.
On 11 November 1918, work and school was abandoned for the day, and the streets of towns and cities filled with thousands of people coming together in spontaneous celebration. The Evening Post in 1918 described the scene in Wellington: "There were songs and cheers, miscellaneous pipings and blastings, and tootings and rattlings—a roaring chorus of gladsome sounds."
So at 11.02am on Sunday 11 November 2018, a cacophony of joyful noise will recapture the newfound peace and hope for the future that the signing of the Armistice brought. The Roaring Chorus will feature a fanfare played by the bells of the National War Memorial Carillon at 11.02am during the official Armistice Centenary National Ceremony in Wellington.
There are also multiple community commemorations nationwide incorporating a Roaring Chorus in various ways including noise from vintage car horns, songs, drums, cheers, whistles, hooters and church bells. Fire and Emergency New Zealand and New Zealand Police have invited available fire appliances and police cars to ring their sirens, and Maritime New Zealand has invited vessels in New Zealand waters to join the commemoration with their horns. KiwiRail's scenic and freight trains will also sound their horns. Many churches and cathedrals with bell-towers throughout New Zealand will be ringing out, some with fanfares for up to 45 minutes.
New Zealand's Roaring Chorus also connects to a campaign of the UK government, supported by the German government, which invites nations worldwide to participate in international bell ringing to replicate the national outpouring of relief that took place at the end of the war. Other countries including the USA are running similar campaigns.
New Zealand's nationwide Armistice Centenary events, many with a Roaring Chorus, are listed at WW100.govt.nz/armistice-events.
Ends
For information, images and interviews contact the WW100 Programme Office communications team:
Charlotte Haddon                                                    
M: 021 448 753                      
E: [email protected]
Hannah Leahy
M: 027 628 4815
E: [email protected]
WW100 Programme Office
P: + 64 4 495 1316
E: [email protected]