05 October 2017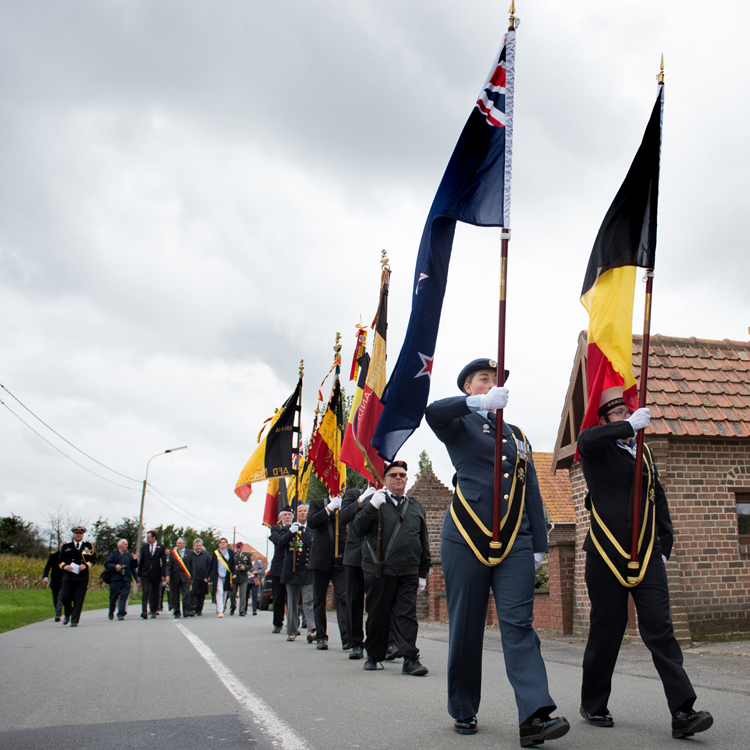 Two New Zealand services in Belgium have paid tribute to the men who lost their lives 100 years ago in the First World War Battle of Broodseinde.
On 4 October, 1917, the New Zealand Division took part in the attack, tasked with seizing the Gravenstafel Spur in Ypres – now known as Ieper.
The battle was considered a success because the New Zealanders helped extend the front line, although it came at the cost of 1700 casualties and about 500 men lost their lives.
At the New Zealand Service of Remembrance at Nine Elms Cemetery, where 117 New Zealanders are buried, a special tribute was made to 1905 All Black captain Dave Gallaher, who lost his life on this day in 1917.
Karl French, the son of Sir Tom French, a Māori All Black from 1911-1913, who served and was wounded on 4 October, 1917, acknowledged the sportsmen who had joined the war, including Gallaher, who was one of 13 All Blacks killed in the First World War.
The service included government and defence force representatives from New Zealand and Belgium, as well as a group of Irish and New Zealand youth. There were about 300 people at the service, including groups of New Zealanders who have travelled to Belgium for the commemorations.
A second service was held later in the afternoon at the New Zealand Battlefield Memorial in 's Gravenstafel, which was the scene of fierce fighting in 1917.
The attack to capture the village of Broodseinde began before dawn on 4 October, with 14 divisions, including the New Zealand Division, attacking along a 10-kilometre front.
Zonnebeke Mayor Dirk Sioen paid tribute to the "sons of Passchendaele"' who lived in the hearts of people in the community.
Historian Dr Ian McGibbon said military history showed that the relative success of the attack on 4 October persuaded General Douglas Haig that one final push would break through the demoralised German defences.
However, combined with the rain that started that evening and turned the battlefields into a quagmire, this ultimately led to the disastrous 12 October attack, in which 960 men were either killed outright or lost their lives over the following three months through wounds sustained that day.
<