05 August 2015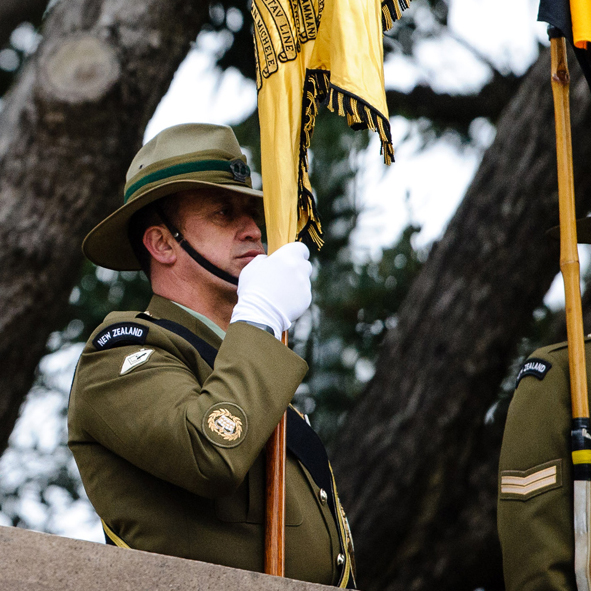 The National Ceremony to mark the Centenary of the Battle for Chunuk Bair at Pukeahu National War Memorial Park in Wellington anchors WW100 events around New Zealand.
8 August marks 100 years from the final dawn attack on the summit by the Wellington Infantry Battalion. New Zealand battalions, representing the regions of this country, suffered extremely high losses in the Gallipoli August Offensive, 6 – 10 August 1915.
Official commemorations at Pukeahu National War Memorial Park at 4pm and at Chunuk Bair in Turkey at 5pm, lead commemorations for New Zealanders. 
Images of the national ceremony in Wellington will be available to download from Dropbox shortly after the event.
The WW100 programme includes ceremonies around the country, new published research, public events, theatre and exhibitions; legacy projects for future generations, school programmes, web resources as well as app-based guides to First World War battle sites.
New Plymouth and Stratford, the home of Lt. Col. William Malone, will host a charter parade by the 5/7 Battalion  Wellington City commemorations include a dawn service and light show at the Wellington Cenotaph as well as Gallipoli The Scale of Our War at Te Papa and The Great War Exhibition created by Sir Peter Jackson in the former dominion museum at Pukeahu. An 11am service and public programmes at Auckland War Memorial Museum includes interpretation by history curators, writers and poets and Massive Nui Ensemble theatre group as well as a performance of WW1 songs written by Māori. Exhibitions, performances and other activities are listed on WW100.govt.nz
The National Ceremony includes a formal commemoration and laying of wreathes, readings from the Gallipoli diary of Rikihana Carkeek, reciting of the Cyril Basset Victoria Cross citation, addresses by Hon Chris Finlayson QC Attorney General, Turkish Chargé d'Affaires Aziz Sevi and performances by the Seraphim Choir.
Other nations are hosting commemorative events at Gallipoli: the Australian service to commemorate the August Offensive occurs at Lone Pine on 6 August and a Turkish ceremony will be held on 10 August.
For further information and to confirm attendance at the National Commemoration:
Tim Renner
WW100 Communications and Promotions Manager
Mobile 0272 467778
Email [email protected]
Order of Service for the National Commemoration for Chunuk Bair
Karanga by June Jackson MNZM
Whakamaharatanga, the Remembrance Bell, is tolled four times as members of the Official Party pay their respects at the Tomb of the Unknown Warrior
COLOURS ARE MARCHED ON
WELCOME
The Honourable Maggie Barry ONZM
Minister for Arts, Culture & Heritage
PROLOGUE
Rear Admiral David Ledson ONZM (Rtd)
Chair, National War Memorial Advisory Council
ADDRESS
The Honourable Chris Finlayson
Attorney-General
CHORAL INTERLUDE
Chilton St James School Seraphim Choir performs "Ma Te Atua"
CYRIL BASSETT VICTORIA CROSS CITATION
FIRST READING
Bill Nathan delivers a reading to mark the participation of Māori troops at Chunuk Bair, in battle for the first time under the New Zealand flag
CHORAL INTERLUDE
Seraphim Choir performs "Po Atarau"
SECOND READING
Aziz Sevi, Chargé d'Affaires, Embassy of Turkey.
CALL TO WORSHIP
LAYING OF WREATHS
NATIONAL ANTHEMS
THE COMMEMORATION
PRAYER
LAMENT
"We will remember them" is played by Piper Flight Sergeant Murray Mansfield RNZAF
FIRING OF VOLLEYS
THE ODE
ONE MINUTE'S SILENCE
THE LAST POST
The RNZAF Band plays "Nightfall in Camp", including "The Last Post".
All uniformed personnel salute
The flags of New Zealand and the Republic of Turkey are lowered
COLOURS ARE MARCHED OFF
CEREMONY CONCLUDES
The Principal Defence Chaplain concludes the ceremony
Further links