15 October 2014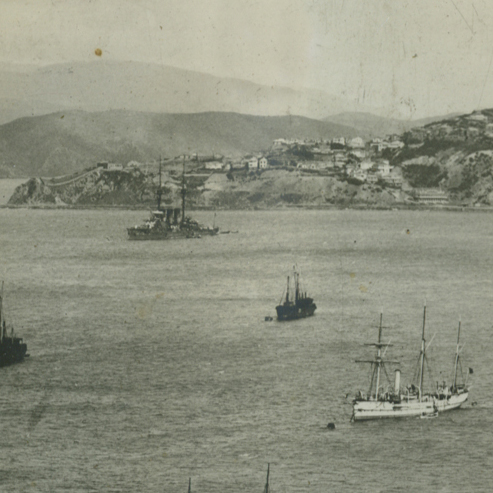 Centenary of the Departure of the Main Body of Troops and 1st Reinforcements to the First World War, 16 October 2014.
No noise, anchor got up quietly and each ship seemed to slip away and take up its place in line…A most impressive sight, grim but harmonious. All was grey bar men.
To mark the largest single departure of people to ever occur in New Zealand, the centenary of the departure of the first fleet of troop ships to the northern hemisphere, Wellington Harbour receives the Ngā Tapuwae New Zealand First World War Trails interpretative sign. The poignant story of departing soldiers – their optimism, the atmosphere around volunteering, their Wellington experience and life on the ships, the mementos linking them to home – is presented in short videos by cultural commentators for this occasion. Available progressively, the first item, by Ministry for Culture and Heritage Senior Historian Imelda Bargas is now available under our WW100 Perspectives page or on the WW100 YouTube channel.
Minister for Arts, Culture and Heritage, Hon Maggie Barry will unveil the interpretative sign on 16 October at 6.30pm on the waterfront promenade in front of Te Papa. In attendance is Australian Minister for Veterans Affairs, Senator Michael Ronaldson, who is responsible for the Australian 100 Years of Anzac centenary.
Media preview of the sign: During the departure of HMNZS Te Kaha at 1pm, 16 October, with Ministry for Culture and Heritage Chief Historian Neill Atkinson. Contact Tim Renner, WW100 Communications & Promotions Manager, 0272 567778.
The Wellington interpretative sign is an element of the Ngā Tapuwae New Zealand First World War Trails. Using new technologies, this legacy project puts accurate and lively commentary into your hand using immersive app and web resources, on site information and other material, directly onto your device. It makes rich historical narratives from soldiers' diaries, powerful images of men in war situations and accurate site guides easily accessible.  It is a service principally for visitors to First World War battlefields in Turkey and Western Europe. The Gallipoli trail will launch early in 2015.
"The departure of so many of New Zealand's young men and women to the northern hemisphere changed the country. The Nga Tapuwae New Zealand First World War Trails project means people can follow in the footsteps of this missing, wounded, changed generation of New Zealanders. Most of them, including my grandfather, left from this shoreline. The First World War had a lasting impact on our nation and this project gets the story right" says Minister for Arts Culture and Heritage, Hon Maggie Barry.
Approximately 8,500 men and almost 4,000 horses departed in the early morning of 16 October 1914. In anticipation, Wellingtonians lined the beaches, coastal roads and ridgelines before dawn, waiting quietly for the procession of ships to appear in the channel leading out of the harbour. Records state that as the bow of the first ship came around the point, cheers rippled across the bays. Each of the ten troopships and four escorts slipped out into Cook Strait single file and set course initially for Australia.
Read an historical outline of the departure. Interested in individual soldiers who departed on 16 October 1914? A ticker tape of these soldiers is displayed on the WW100 website. Click on individual names for additional information.
HMNZS Te Kaha is currently docked in Wellington and will depart at 1pm, 16 October, bound for the Australian commemoration for the departure of First World War troops, at Albany, Western Australia.
Wellington City Council is marking the unique role of the city with a free outdoor multimedia event that will take place over three nights from 8pm, Thursday 16–Saturday 18 October. Lest We Forget, uses early film footage, still photographs and other images of Wellington and its war effort, projected onto the facades of three significant buildings
ENDS
Media wishing to attend the ceremony, please contact Tim Renner, WW100 Communications & Promotions Manager, 0272 567778.
Media resources including images and the WW100 symbol
Download the official programme of the unveiling ceremony
An overview of the WW100 programme, annual themes and historical information
Further information about the WW100 programme
Download a JPEG version of the sign (976 KB)
Download a PDF version of the sign (2.75 MB)
Media Contact
Tim Renner, WW100 Communications & Promotions Manager