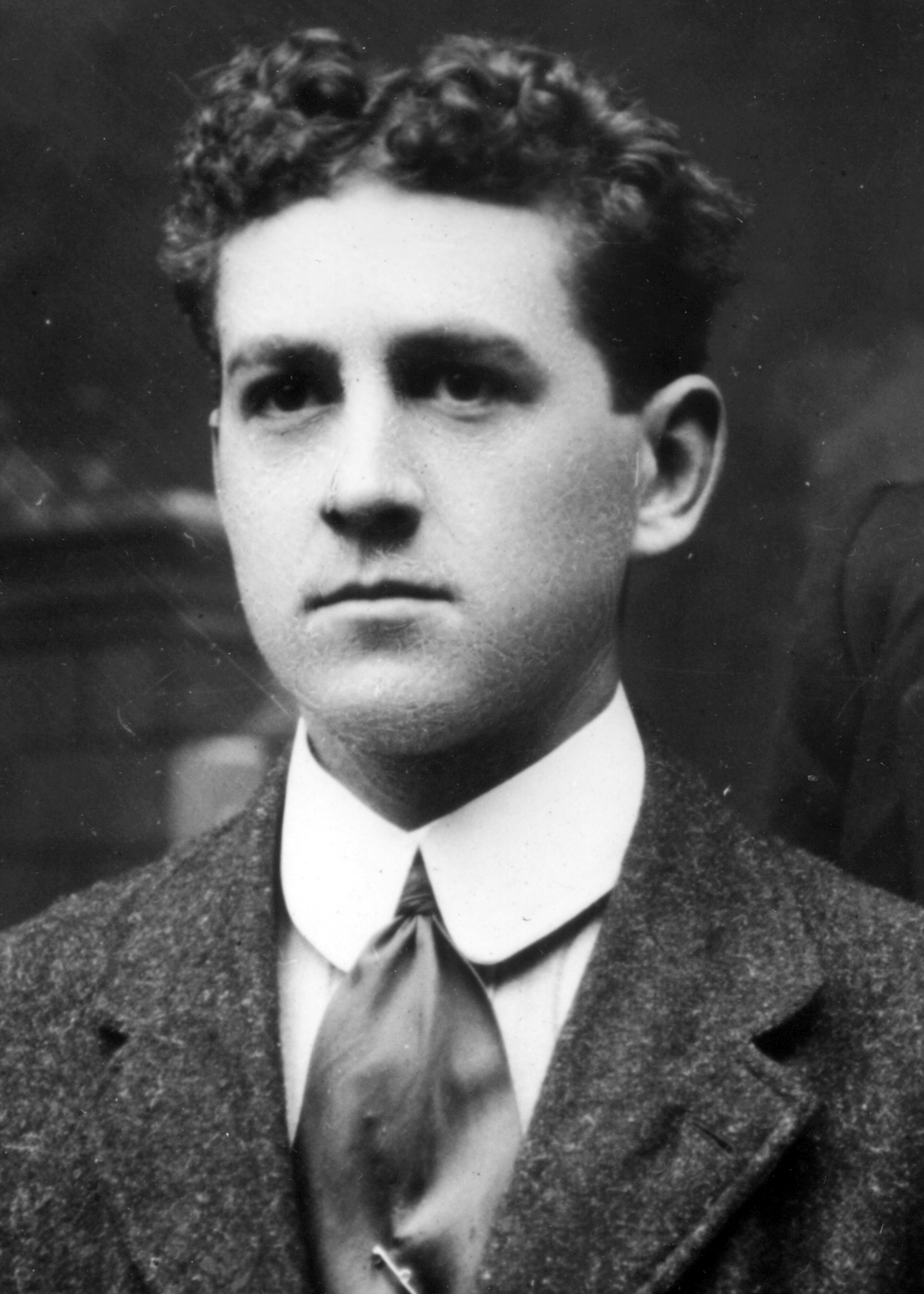 On Gallipoli the scale of the casualties overwhelmed the meagre facilities at hand. Bearing wounded who couldn't walk was the job of stretcher-bearers. In peacetime, bandsmen trained in this role, but on Gallipoli many others lent a hand, sometimes using novel means. Stretcher-bearing was a role often chosen by people of a peaceable nature. But the courage required to venture into no-man's land or brave enemy fire to pick up a maimed man was no less than for those doing the fighting – and often took far more courage.1 As one wounded soldier commented in November 1915 about his experiences at Gallipoli: "If our soldiers were brave, then these stretcher bearers were heroes".2
Whenever there were not enough stretcher-bearers available soldiers routinely carried wounded comrades to safety. Late in April 1915, for instance, Private Frank Shirley of New Plymouth was badly wounded and took cover in an abandoned dug-out. As he later told his mother:
I then found out that I was next to one of my tent mates, Will McMurray, and it is to him I owe my life, for all through that long day while I was lying there and could not get out for the rain of bullets, he kept asking how I was feeling and giving me water. When night came he crawled over to me, and half carried and dragged me over a hill to safety. How it was that he was not hit is a marvel to me. He had carried another man out earlier in the day, and had come back to the firing line as if nothing had happened. What do you call that? Risking his life to save others, and now he is reported missing. I hope to God he is a prisoner and not killed. He was such a fine fellow, poor Mac.3
Private Arthur Carbines, No. 10/706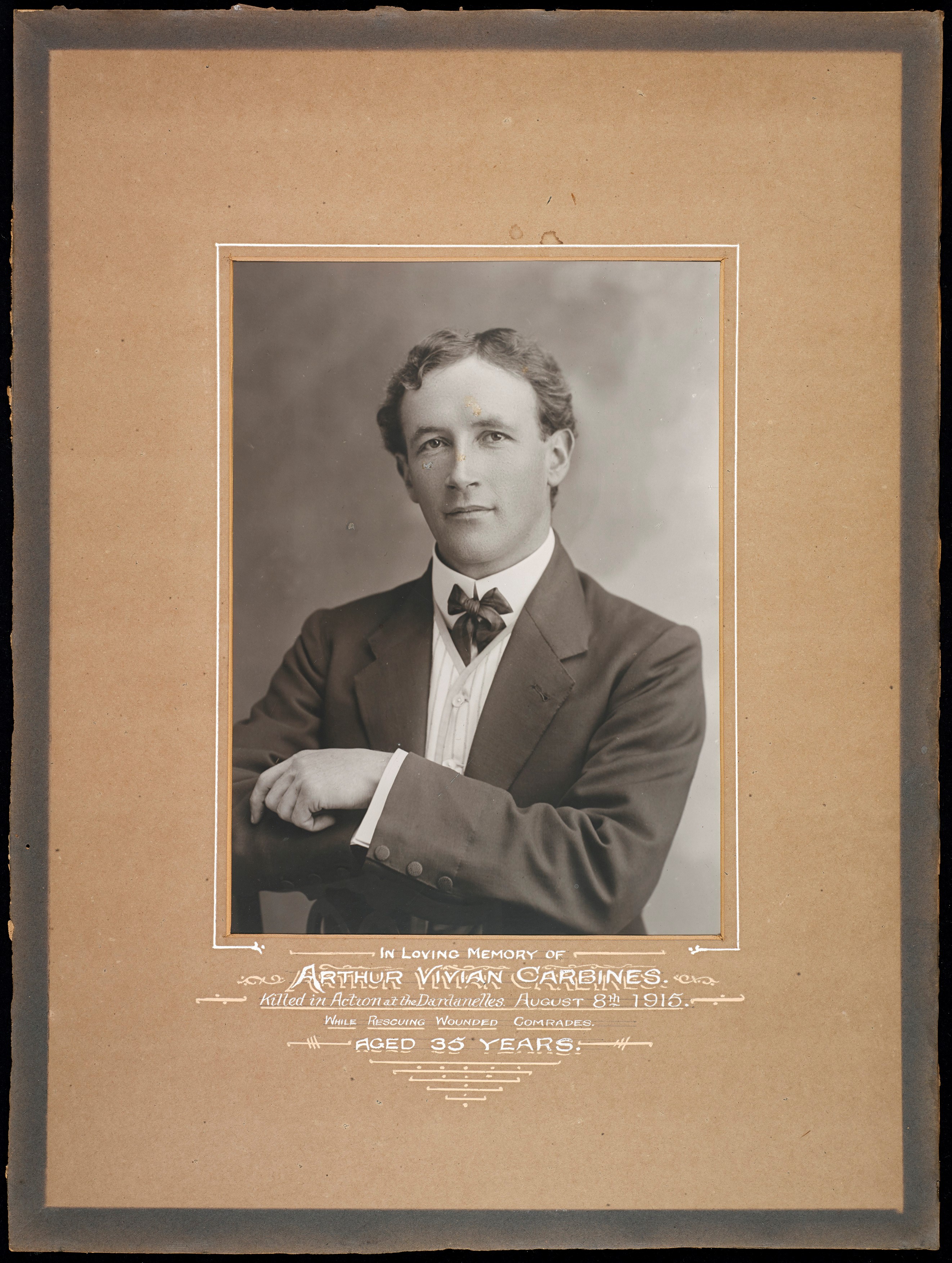 In his diary for the day of the landings at Gallipoli, Arthur Carbines wrote that "I was almost stunned to witness… the dead lying on the side of the tracks and the wounded coming back, moaning and writhing with their pains".4 Although Carbines was involved in much heavy fighting, and had many friends killed or wounded, he was a compassionate soldier. Once he threw water bottles to wounded Ottoman soldiers lying in no mans land in front of Quinn's Post.5 He did not loose his well-developed sense of humour during the campaign, and wrote at least one song at Gallipoli.6
The Wellington Battalion was short of stretcher bearers and on 4 August Arthur Carbines volunteered for this duty. The only additional training he received was some lectures on first aid.7 The Allied offensive to break out from the beachhead around Anzac Cove began on 6 August, and Carbines was soon hard at work. The following day a soldier directed the Wellington Battalion stretcher-bearers to the wounded on the foothills, where Carbines witnessed:
Piteous scenes, short of stretchers... One thousand wounded left all day in shellfire, [we were] unable to get to them till Dusk. Hard work getting through scrub and down the track – bullets whizzing round.8
From 5am the following morning Arthur Carbines was hard at work again, after which he had a cup of tea that he described as the "best I have ever enjoyed".9 Shortly after he had completed writing up his diary, Arthur went to assist British troops on Chunuk Bair with their wounded. There he spotted some wounded men lying in front of a trench. The British troops holding the trench refused to help him bring them to safety and so Arthur volunteered to do it by himself. Arthur crawled out to the men, but found it impossible to get them back to the trench by himself. As he clambered back into the trench over the parapet a panicky British officer shot Arthur Carbines in the head, killing him. His friends were saddened by the death of this brave man and were outraged by how it had occurred.10 Arthur Carbines has no known grave and is commemorated on the New Zealand Memorial to the Missing on Chunuk Bair.11 His good service at Gallipoli was recognised by a posthumous mentioned in dispatches.12 He was a devout Christian who wrote several hymns including 'We are Children working for the Lord'; the last line of which is:
and when this short life is done, we'll go live with Him in glory.13
Private Frank Tanner, No. 6/1130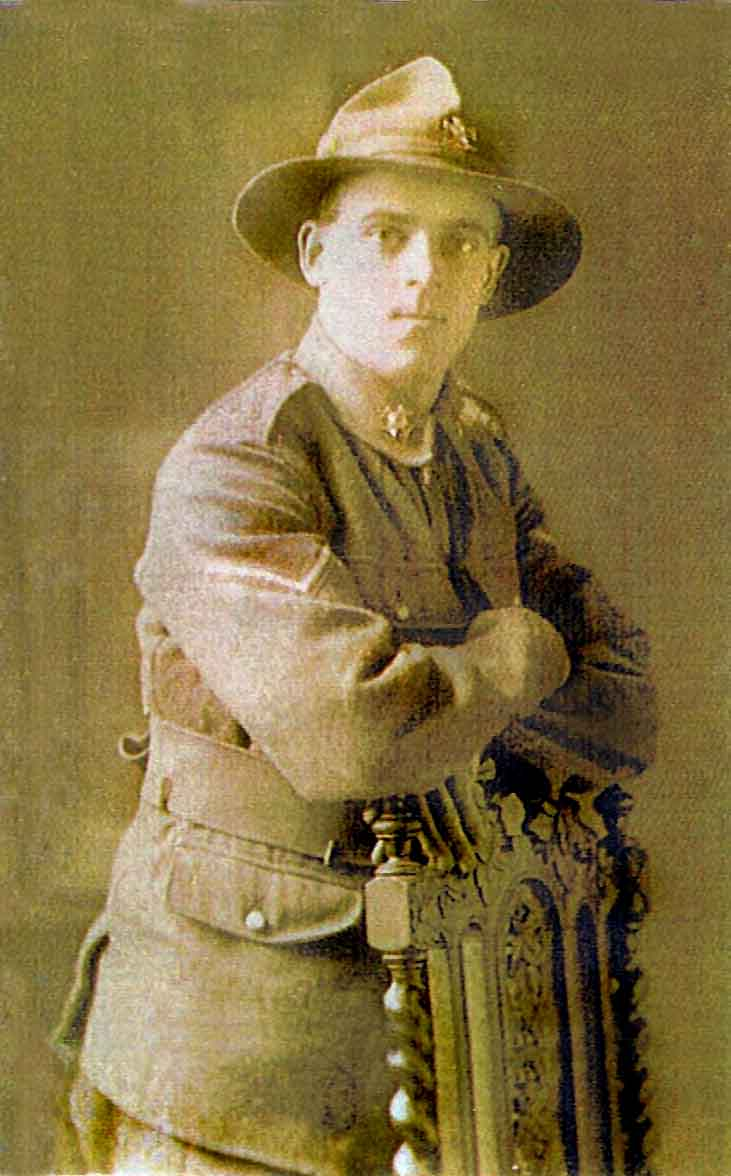 English-born Private Francis 'Frank' Arthur Tanner, a stretcher-bearer with the Canterbury Infantry Battalion, had been a brick worker for the Christchurch Gas Company. He was 21 when joined up in 1914, though pretended to be 22. He landed in Gallipoli on 25 April and wrote to his mother that "Wherever we have to go we have to dig in. It is good training, this hill.… We go to sleep to the sound of rifle fire and guns and wake to the same music…."14 Despite a spell on Imbros, by August he and his mates were feeling the effects of poor diet and the unremitting stress of 12-hour shifts. "I am just about done, 'used up'," he said, "my knees were giving way under me when I walked [with the stretcher]. I hope to be able to build myself up again in the next few days if they will only leave us in peace.…"15 A week later: "Everyone is the same who has been here long, all festers, any little scratch the flies get at it. My knees and hands are getting in a bad state."16
But being part of a team of four stretcher-bearers, Frank had an important job to do rescuing the wounded and did not want to let anyone down. One of his stretcher-bearing parties included Ben Fuller: "Poor old Ben is about played out but with dysentery we could only get about 50 yards and then we would have to have a spell," Frank said. "The latter part of the journey was very steep and it was getting dark when a voice said 'Hello Frank at last we meet'. It was George Freeme (of Timaru, a corporal with the Mounted Field Ambulance) with a mate of his and they gave us a hand and just about saved our lives."17
On 18 August, a company of the Canterbury Infantry Battalion:
attempted to capture a Turkish sap about 30yds from our trench [at the Apex], only twenty men went out and we were ready in the trench for accidents. They no sooner went out than a machine gun started firing slowly. Lieut. Shipp [Shepherd?] came in with one man shot through the stomach and said there were two more wounded out there so Alec Thompson, Dick Lockwood, Bob Matheson and I crawled out. Our men were retiring when we got to our man he was badly hit in the stomach too and was groaning and calling for stretcher bearers not very nice about five or six yards from the Turkish trench but we crawled back half lifting and half dragging him in, the other man was hit in the leg and crawled in and one more was killed. It was just as well our men retired as there is no doubt the Turks had the strength of us pretty well and were only kidding us on.18
The attack was repeated the following night, with worse results.
Frank's health was gradually ground down until he was evacuated sick on 21 October, ending his Gallipoli experience. He recovered and went with his mates to the Western Front, being wounded twice in 1917. The second wound ended Lance Corporal Tanner's war. A piece of shrapnel had entered his right elbow, leaving him permanently disabled and unable to return to his pre-war employment. After marrying in 1920, he and his wife Gladys opened a successful fruiterer and grocer's business in Christchurch and Auckland. Frank lived to 94.19
Private Richard Henderson, No. 3/258
Stretcher-bearers at Gallipoli worked 12-hour shifts in which they often did six or more exhausting journeys from the firing line to the beach, where hospital facilities operated. From the landing a New Zealand medic William Henry adopted another way to carry the wounded – using a mule. His brave innovation was recognised with a Distinguished Conduct Medal before the campaign was over, but another New Zealander, No. 3/258 Private Richard 'Dick' Alexander Henderson, went almost completely unheralded for doing the same. A mild-mannered school teacher from Auckland, Henderson was with the New Zealand Field Ambulance and in late May "a donkey came in to my hands", he said after the war. Donkeys were on the peninsula to carry water and one had been used for just over three weeks since the landing by an Australian stretcher bearer, Private John Simpson Kirkpatrick, nicknamed Murphy. After Kirkpatrick's death on 19 May Henderson took over the role of conveying wounded men by donkey several times a day from Walker's Ridge to the dressing station at Anzac Cove. "I also used the donkey the night our mounted troops were relieved from No.2 outpost, after being cut off for twenty-four hours."20 His solitary work took him "through the hottest shrapnel, through the aimed bullets of snipers, and the unarmed bullets that came over the ridges".21
Henderson soldiered on, unsung, despite a photograph of him being widely published – and captioned as Murphy! When the media got hold of it, such was the power of the image and sentiment that the legend of the Man with the Donkey grew – but under Murphy's name! The Australian was even mentioned in orders while Dick Henderson laboured on.22 He ceased the role when appointed the field ambulance cook on 17 August 1915.23
Dick Henderson served on the Western Front and continued to demonstrate his quiet courage. In 1916 he was awarded the Military Medal for bravery during the Battle of the Somme: "he went out repeatedly under heavy shell fire and brought in wounded who were exposed to it. He set a fine example to the other bearers."24 The following year during the Battle of Passchendaele Dick Henderson was gassed. He was then invalided home and discharged from the NZEF, aged 24.25
In December 1919 Henderson was commissioned as a 2nd lieutenant in the Territorial Force. He served until January 1925 when he transferred to the Reserve of Officers. Two months later Dick Henderson wrote to the New Zealand Herald strongly criticizing the Military Forces for failing to bury with military honours an old comrade of his who had died as a result of a disease contracted during the war. Officers were forbidden by regulation from making such comments in public. Henderson, however, was not punished largely because of his good service record.26 In 1934 Henderson lost his sight from the effects of the mustard gas. A few years later the mystery was cleared up and his name finally associated with the legend of the man with the donkey. He died in 1958.27
Footnotes
Brendan O'Carroll, Khaki Angels: Kiwi Stretcher-Bearers in the First and Second World Wars, Wellington, 2009, pp.28-47.
Taranaki Daily News, 2 November 1915, p.3.
Ibid., 13 October 1915, p.6.
Diary entry for 25 April 1915, Arthur Carbines Diary (copy), MS-Papers-7406, Alexander Turnbull Library, Wellington (ATL).
Entry for 26 June-4 July 1915, Carbines diary.
Entry for 14 May, 15 June, 4 to 12 July 1915, Carbines diary; Colonist, 15 September 1915, p.3; Grey River Argus, 18 September 1915, 3.
Entry for 4 August 1915, Carbines diary; Taranaki Daily News, 16 November 1915, p.7.
Entry 7 August 1915, Carbines diary.
ibid., 8 August 1915.
ibid.; Taranaki Daily News, 2 November, p.3, 16 November 1915, p.7.
Commonwealth War Graves Commission data on Arthur Carbines, www.cwgc.org, accessed 1 August 2015.
London Gazette, 28 January 1916, p.1210.
Hymns Composed by Arthur V. Carbines for the Auckland Tabernacle School Anniversaries, Auckland, 1916, p.11; Auckland Star, 13 September 1915, p.6.
Entries for 29 and 30 April 1915. Francis A Tanner Diary, Tanner Family Collection.
ibid., 21 August 1915.
ibid., 26 August 1915.
ibid., 29 August 1915. Frank's spelling was 'dysentry'.
ibid.,18 August 1915. Francis A Tanner Diary; David Fergusson, History of the Canterbury Regiment NZEF 1914-1919, Auckland, 1921, p. 69. The unit history said Lieutenant Donald Dobson led the raid that night, and Lt John B Le Mottee did so the following night, when another 11 men became casualties (three killed). The aim was to destroy an Ottoman redoubt east of The Apex, known as 'The Pinnacle'.
Francis Arthur Tanner PF, R7823754 ANZ; Press, 11 May 1926, p.4; New Zealand Herald, 26 December 1931, p.5.
Auckland Star, 25 September 1937, p.14, Henderson quoted, when his identity was revealed in relation to the photograph and Horace Moore-Jones' paintings based on the photograph. Peter Cochrane, Simpson and the Donkey: The Making of a Legend, Melbourne, 1992, pp.41-61.
Charles Bean quoted by the Evening Post, 1 February 1919, p.10, re 'Murphy of Anzac'.
Murphy, actually Pte John Simpson Kirkpatrick, 3rd Australian Field Ambulance, was mentioned in ANZAC Routine Orders on 29 June 1915 and in Sir Ian Hamilton's despatch of 22 September 1915. Evening Post, 1 February 1919, p.10.
Richard Alexander Henderson PF, ANZ.
London Gazette, 9 December 1916, p.12058.
History-Sheet, Richard Alexander Henderson PF, R16794257 ANZ.
Extracts from New Zealand Gazette, No. 19, 29 January 1920, No.12, 19 February 1925, clipping from New Zealand Herald, 10 March 1925, Smythe to Headquarters Northern Military Command, 26 March 1925 and related papers, Richard Alexander Henderson Territorial Force PF, New Zealand Defence Force Archives, Trentham.
History-Sheet, Richard Alexander Henderson PF, ANZ; Graham Wilson, Dust Donkeys and Delusions: The Myth of Simpson and his Donkey, Newport NSW, 2012; Glyn Harper, The Donkey Man, Auckland, 2004, this popular children's book has done much to increase awareness of Henderson's story.