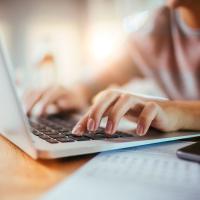 By Henry Talbot – Senior Advisor, Office of Film and Literature Classification
The Great War was fought on many fronts – this often involved bayonets and rifles in the trenches, but it also involved snooping through letters, books, telegraphs and speeches on the home front. Censorship in New Zealand was in many ways shaped by the conflict. With the war came strategies. Regulations. Prohibition. Secrets. New Zealand saw drastic changes to legislation designed to combat any illegal (read: anti-war) propaganda.
Censorship was used primarily to protect military campaigns and all forms of army communication. This included sanctions from the government on a myriad of areas, resulting in a broad suppression of our freedom of expression. The term 'seditious' was penned as illegal, imprisoning individuals for rebelling against the authority of the state. Any form of critique regarding the government resulted in fines or imprisonment and hard labour. Film censorship was originally targeted at content that might discourage army recruitment by showing the brutal reality of the war.
This regime sounds oppressive and almost tyrannical when compared to our current system. Thankfully, the censorship office (Office of Film and Literature Classification – 'OFLC') does not hire someone to open and read private letters. Nor do we filter private emails, which would be the equivalent of handwritten letters in the First World War.
Censorship still has a place in modern New Zealand, however. People often claim that you "can't censor the internet", but tell that to the people who get caught distributing child abuse images online. In fact there are hundreds of sites blocked in New Zealand for this type of content.
We've come a long way from censoring news at the front, but some of the more complex and troubling material we deal with today involves war atrocities and terrorism. Under section 3(3)(d) of the Films, Videos and Publications Classification Act we can restrict or ban content for promoting or encouraging acts of terrorism. Freedom of expression is always central to our decisions however, in stark contrast to censorship during the First World War. And these decisions aren't easy.
For example, if you share images of a graphic terrorist atrocity on Facebook does this encourage terrorism? Or is it more like a modern depiction of letter writing from the Great War – describing the experience of a soldier in a modern format? If we place restrictions or completely ban these types of publications, are we reverting to the practices that were used in the First World War? Would this be an unwarranted limitation on New Zealanders' rights to freedom of expression – or a justified measure to protect the public from harm?
This narrative is an example of the constant questioning of ourselves in our shifting cultural and technological climate, which is growing and evolving every new day. New Zealanders are lucky – we live in a free and democratic society, with a particular emphasis on freedom of expression. Censorship still exists, but it's worlds away from the dark days of the First World War.
Read more perspectives on censorship at WW100.govt.nz/censorship