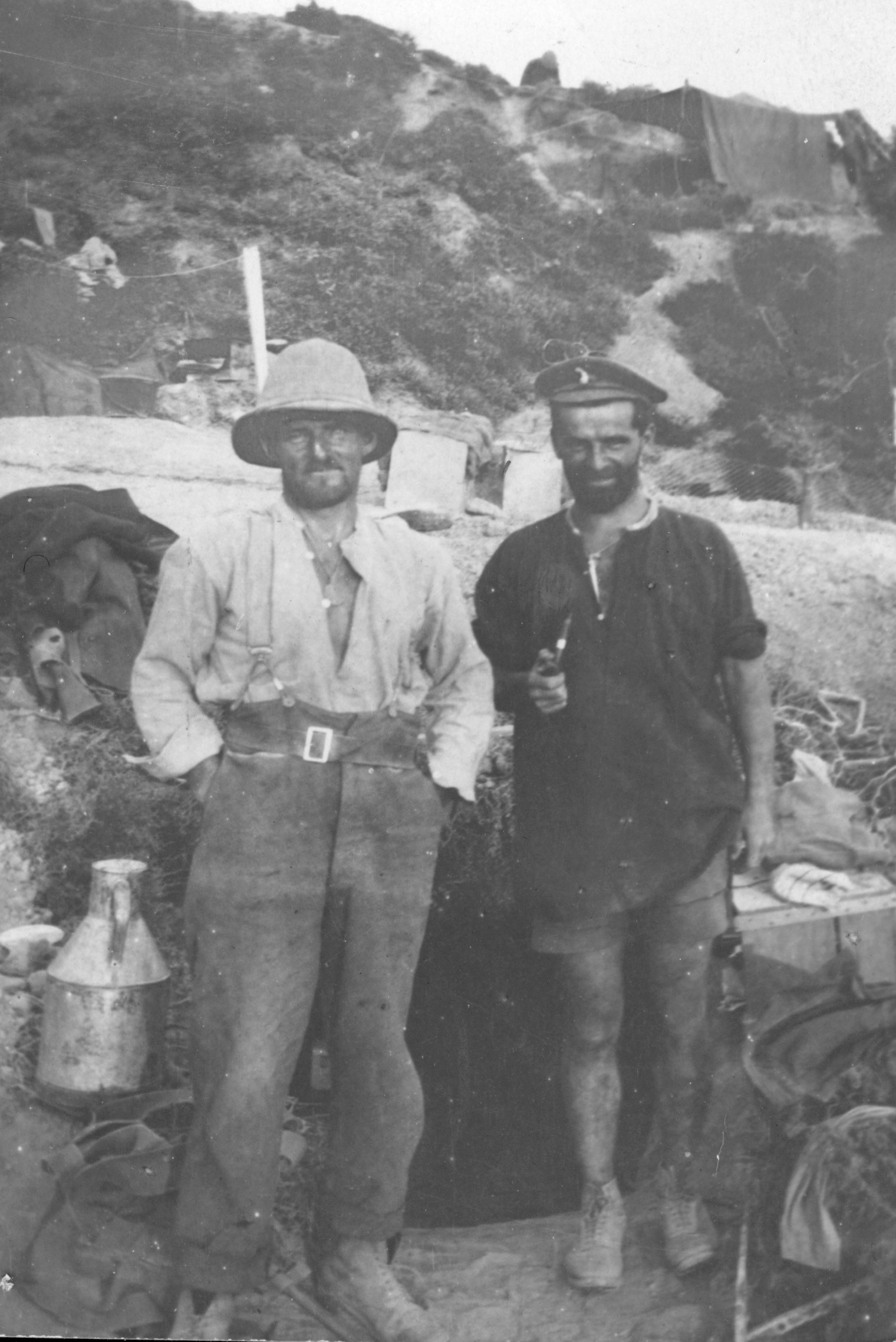 The major units of the New Zealand Expeditionary Force (NZEF) were recruited from particular geographical areas. The Canterbury Infantry Battalion, for instance, had four companies, one from each of the Territorial Force infantry battalions in the Canterbury Military District: 1st (Canterbury) Company, 2nd (South Canterbury) Company, 12th (Nelson) Company and 13th (North Canterbury and Westland) Company. This meant that friends and relatives commonly served in the same company. This tendency was especially marked in small towns and country areas.1 Many brothers fought together. During its epic defence of Chunuk Bair on 8 August 1915, for instance, four pairs of brothers serving in the Wellington Infantry Battalion were killed.2
Breeze Brothers
Men from small towns naturally looked after each other on Gallipoli, and the Breeze brothers of Hokitika – shoemakers, blacksmiths, and labourers – were no exception. Several young men from the huge catholic family went to war and looked out for their brothers, cousins and mates. When writing home they reported how others were getting on. Private George Patrick 'Paddy' Breeze aged 25 and his older brother Private William Joseph 'Billy' both served in the Canterbury Infantry Battalion. Paddy enlisted in August 1914 and Billy in December. Both served at Gallipoli. Paddy wrote home from the Second Battle of Krithia in May:
I tell you this war is A Terrible [sic] you see your mates falling all around you. Yesterday Harry Shand was laying [sic] alongside me out of trenches we were in……. Harry got one through below the shoulder blade and came out his chest. I done my best for him. I think he will get better. He was one of 11 men shot around me. We had to charge over an open Plateau under Turkish Fire… expecting Death every step. It makes you think & then you marvel how on Earth you got through. The bullet that went through H. Shand went through another chap's leg. How it missed me I can't tell as I was in front of them.3
Both brothers were in the Canterbury Battalion for the big August push onto the hills behind Anzac Cove. Billy recorded the moment when they met:
It was awful on that hillside on Friday and Saturday. It just rained bullets and shrapnel. We took two trenches at the point of the bayonet, and… lost a lot of men. We were lying behind the firing line waiting to charge when I got hit. I sat up to have a look where I had been hit, when I suddenly saw Paddy… whom I had not seen since we arrived here…. He had been wounded, I went over to him, and it was terrible to see him; he had been wounded in both legs.4
Billy was sparing his parents from undue anguish, for both of Paddy's legs had actually been blown off.5 Another Hokitika man, Robert Henderson, wrote about "poor old Paddy Breeze… I don't think there was a gamer chap in the whole battalion than 'Paddy.' All the boys used to call him 'the White Gurkha'."6 Billy stayed with Paddy, saying "he was a brave fellow. He sat up and said: 'Well, Bill, old man, I'm done for. Tell the boys I died game, and give my love to mother, father and all at home.' I… tried to carry him, but it was no good. So he said: 'Straighten my legs out and I will take my chance'. I kissed him & told him I would send Stretcher Bearers for him if I got out." Billy was evacuated and never saw his brother again. When his body was found, Paddy had an unsent letter on him. On it he had scrawled 'I love you Mother…' with the pencil line trailing off down the page as he expired. From hospital Billy later wrote hoping his mother and father "are keeping a brave heart & not giving way to grief. Think of the thousands of others doing the same as us, and pray that the old flag may be kept flying for those that come after us. It is a great and glorious fight and I am proud to be playing my little part in it."7
Billy Breeze served on the Western Front between 1916 and 1918. He was not discharged from the NZEF until March 1919 and died in Hokitika in 1951.8
Pyle Brothers
Each New Zealand mounted rifles regiment had three squadrons, each of which at full strength consisted of a small headquarters and four 32-strong troops. After the outbreak of war in August 1914, Frank Pyle, who was working in his father's store in St Bathans, Central Otago, travelled to Dunedin when he enlisted in the Otago Mounted Rifles with his brother, William Rupert, known as 'Pike', who was a bank clerk and a highly regarded provincial rugby player. Frank, who was 28 years old, was given to the service number 9/74, and William, who was 25, the number 9/76. The brothers were devoted to each other and both served in the No.2 Troop of the 5th (Otago Hussars) Squadron, Otago Mounted Rifles.9
The Otago Mounted Rifles landed at Gallipoli in May 1915. Along with the other New Zealand mounted regiments and the Māori Contingent the Otago Mounted Rifles were given the task in the August offensive of clearing the rugged, scrub covered approaches to the Sari Bair range. This successful operation on the night of 6/7 August was a brilliant feat of arms, which involved much vicious close-quarter fighting, but it came at a high price. The No.2 Troop suffered heavily. In a tribute to the "Dead Heroes" of the troop, a survivor wrote later 1915 that: "The red horror of war was then in full flood . . . It was Hell left loose and making the most of its liberty".10 Frank Pyle wrote in his diary that it was "a thrilling night and once or twice I thought a fellow's chance of getting through seemed fairly small". Of the 22 men in the No.2 Troop who took part in the attack, four were killed and ten wounded.11 When he learnt that Rupert was amongst those killed, Frank Pyle set out to find his brother's body. After a careful search he found Rupert near the front-line. He then carried his body back a long distance over terribly difficult country to the No.2 Outpost. This tremendous effort nearly killed Frank. Rupert was buried at the post after a funeral attended by Frank and a few of his comrades. Thanks to Frank's heroic exertions, his brother is one of the few New Zealanders killed at this time who has a known grave.12
After learning of Rupert' death a younger brother, Wilfred 'Bill' Pyle, wrote a heartfelt letter to his father. Rupert and Frank had always been very close, something Wilfred recognised:
Poor old Frank to – it must be a fearful blow to him and we can't possibly realise his state of mind at the present moment. To have a loyal comrade and brother one day – to have been together through so much till the last – and then for generous old Rupert to go down as he did and leave him to face it alone must be terrible.13
Wilfred also wrote a poem, "To Rupert", that begins:
You with the laughing eyes and athlete's mould

And carriage proud as any Caesar's heir,

What joy in life was yours, till shadow's cold

Stole on you, and you slept by Sari Bair.14
Frank Pyle was wounded later in August during the fierce fighting at Hill 60. He recovered and continued to serve in the NZEF for the rest of the war and was only discharged in June 1919.15 Frank married after returning to New Zealand and named his firstborn son Rupert.16 Wilfred Pyle enlisted in the NZEF in January 1916. He suffered from serious ill health during his service in the United Kingdom and France. In January 1919 Wilfred was invalided out of the NZEF. He died aged 31 in October 1921 from a haemorrhage of his lungs caused by the tuberculosis he had contracted during his war service.17
Footnotes
David Ferguson, The History of the Canterbury Regiment, NZEF, 1914-1919, Auckland, 1921, pp. 1-3.
Richard Stowers, Bloody Gallipoli: The New Zealanders' Story, Auckland, 2005, p.182.
Private George Patrick 'Paddy' Breeze, No. 6/591 to his Mother [Margaret Breeze], 9th [May?] 1915, in Tony Fraser, 'Two New Zealanders at Gallipoli', The Gallipolian, 14 Nov 2003, p.4. Paddy was 25. History-Sheet, George Patrick 'Paddy' Breeze, NZEF personal file [PF], R22278677, Archives New Zealand Wellington [ANZ].
Press, 19 October 1915, p.2.
Private Richard Sweetman, No. 6/1414 Canterbury Infantry Battalion writing to his brother about the death of Major James Houlker, Nelson Evening Mail, 8 November 1915, p.4. Henderson said he took a "smack on the back from one of Paddy's legs" as it flew off. ibid.
'Soldier's Letters', West Coast Times, 14 October 1915, p.4, Private Robert 'Bob' Henderson to a friend in Hokitika, from 19th General Hospital, Alexandria, 23 August 1915.
6/1474 William Joseph 'Billy' Breeze to 'Dear Mother & Father' [John J and Margaret Breeze], 18 August 1915, from Mena House, Alexandria, in Tony Fraser, 'Two New Zealanders at Gallipoli', The Gallipolian, 14 Nov 2003, p.4. Another brother Mark B Breeze, No., 22/53 was wounded at Messines, only to drown in Wellington Harbour in 1928, aged 31.
History–Sheet, William Joseph Breeze PF, R22278684, ANZ.
Mount Ida Chronicle, 19 November 1915, p.3; History-Sheet and attestation form, Frank Mortimer Pyle PF, R20803513, ANZ; History-Sheet and attestation form, William Rupert Pyle PF, R20803517, ANZ.
Mount Ida Chronicle, 19 November 1915, p.3.
Entry 7 August 1915, Frank Pyle diary, Kippenberger Military Archive and Research Library, Waiouru.
Ibid.; Keith Douglas Scott, Before Anzac Beyond Armistice: the Central Otago Soldiers of World War One and the Home they left Behind, Auckland, 2009,, pp.92-96; Terry Kinloch, 'Full Cry for the Dardanelles' in Don Mackay ed., The Troopers' Tale: The History of the Otago Mounted Rifles, Dunedin, 2012, p.186; Rupert is buried in the Commonwealth War Graves Commission's No.2 Outpost Cemetery.
As quoted in Scott, p.130.
As quoted in Scott, p.92.
History-Sheet and related papers, Frank Mortimer Pyle PF, ANZ.
Scott, pp. 266-67, 287.
Ibid., p. 131; History-Sheet, Wilfred Graham Pyle PF, R20803515, ANZ.