By:
Janneen Love - Exhibition Developer at Auckland War Memorial Museum
Auckland Museum Exhibition Developer Janneen Love writes about telling a First World War story that she – like many New Zealanders – previously knew little about.
---
When war broke out in Europe in August 1914, Britain asked New Zealand to send a force to the German colony of Sāmoa and to seize a German wireless station as a 'great and urgent imperial service'.
At the outbreak of war, Sāmoa was of strategic importance to Germany. The radio transmitter located in the hills above Apia was capable of sending long-range Morse signals to Berlin. It could also communicate with the 90 warships in Germany's naval fleet. Britain wanted this threat neutralised.
New Zealand's response was swift. Led by Lieutenant-Colonel Robert Logan, the approximately 1400-strong New Zealand Expeditionary Force Advance Party (Sāmoa) landed at Apia on 29 August 1914 – with nurses, chaplains, mechanics, Post and Telegraph Corps and engineers. They met with no resistance from the small number of German officials or the general population.
The following day Logan proclaimed a New Zealand-run British Military Occupation of Sāmoa. The Union Jack was raised and all buildings and properties belonging to the previous administration were appropriated.
The arrival of the New Zealand Expeditionary Force on Sāmoa shores was the significant action that started a closer, long term relationship between the two countries that has developed and strengthened into what it is today. This military event and its impact is currently documented as part of the First World War centenary in the Entangled Islands exhibition at Auckland War Memorial Museum.
In this article, we talk to one of the developers of the exhibition, Janneen Love, about her experience working in a team to tell a First World War story that she – like many New Zealanders – previously knew little about.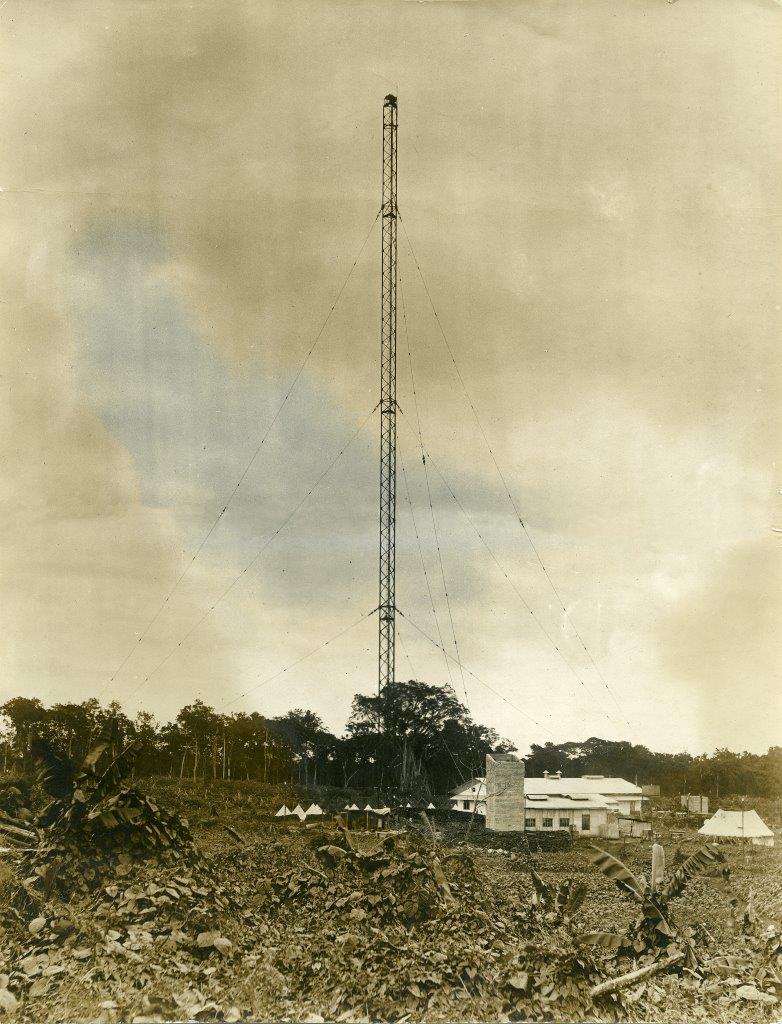 What approach did you and the team take to the process of developing this exhibition?
From the inception of the exhibition, the team (including curators Gail Romano and Kolokesa U. Māhina-Tuai, and content specialist Damon Salesa, Associate Professor of Pacific Studies at the University of Auckland) made some very deliberate decisions about using multiple perspectives.
It was plain to see that one person's version of the 'truth' was not the same as others. We decided to let multiple perspectives or truths sit beside each other. We also sought out material in the first person voice wherever possible, providing context to support what that person was saying, but not taking a position on it. We wanted to retain the integrity of their opinion, to allow them to explain their perspective.
Here are three quite different experiences of the occupation of German Sāmoa and the First World War, as an example of how perspectives are woven through the exhibition (these are direct quotes from the exhibition display). The view of the nurses differs greatly from soldiers of either New Zealand or German forces, and also the Sāmoan population at the time.
---
Nurses of the advance party
For the seven nurses of the New Zealand Expeditionary Force Advance Party (Sāmoa) the work was hard, but routine. Three eight-hour shifts kept the hospital running 24 hours a day. Ida Willis was the last to join the team, signing up when the troop ships called into Fiji on the way to Sāmoa. All of the nurses went on to serve in the battlefields of Europe.
"Although war was already raging in Europe we were far from it on that lonely island. Only once we had a glimpse of it and that was soon after we arrived. One morning, very early, we were aroused by the padre who told us to look out to sea. 
"We stood on our beds and there below us were the two German battleships, the Scharnhorst and the Gneisenau. With the padre's strong glasses we seemed to be looking straight into the mouths of their big guns, which they seemed to be training slowly all round the coast and back into the heart of the country, while our hearts were in our mouths.
At last they turned and moved slowly away and we breathed again."
---
New Zealand soldiers
The first New Zealand soldiers to leave for the First World War had no idea where they were going until they were on transport ships and sailing for Sāmoa. For most of them, all volunteers, it would be a gentle introduction to the war. Greater hardships awaited them in Europe, where 266 would lose their lives.
"I do wish Mother and Father could come down here for a trip. The place is like a Garden of Eden. Everything is glorious."
- Billie (last name and rank unknown), from a letter handwritten on the back of a copy of New Zealand's proclamation of occupation.
"Tinned salmon for breakfast, also bacon … Had fruit salad for dinner, it did not go too badly at all."
- From the diary of Regimental Armourer Sergeant Albert H. Marshall, 5th Wellington Regiment, 6 October 1914.
"… it was by each man doing his own job that life was possible in the tropics in those days which now seem so far off. We had troubles and misunderstandings, but we learned to respect each other, and the work we found to do we did with a will."
- Colonel Robert Logan, New Zealand's Military Administrator of Sāmoa, quoted from the 1924 foreword to The Sāmoa  (N.Z.) Expeditionary Force 1914–1915.
---
Wartime internees
More than 60 Germans were transported from Sāmoa and interned in New Zealand during the First World War. Rudolph Berking, who'd been a customs official in German Sāmoa, was one of those kept on Motuihe Island, in the Hauraki Gulf.
Life on the island was fairly easy, if dull. Internees were free to wander during daylight and could swim at the beach. But Berking just wanted to get home to his wife and land in Sāmoa. He wrote letter after letter to the authorities asking to return.
"Why am I here?  I am not complaining; allowing me to return to Sāmoa is not a release from detention it is simply a transfer from one system of control to another; there I am in the hands of the Government just as securely as here in Motuihe:There I have to report once a week and if deemed necessary report daily, there I have to be indoors from 6 in the afternoon till 6 in the morning and have to carry out any sudden regulation, just like here in Motuihe, the only difference being indeed, that here the Government spends something like £16 per month for my keep, whereas in Sāmoa this expense is saved."
- Letter from R.P. Berking to the American Consul General seeking support for his case, 25 August, 1916.
---
The exhibition development team were also mindful that these stories and different Sāmoan perspectives would be un-familiar to many. I didn't previously know that during the First World War Germans from Sāmoa were interned on Motuihe Island in Auckland Harbour and on Somes Island, in Wellington harbour. Similarly, I was fascinated to learn about the friendship between Sāmoan Ta'isi Olaf Frederick Nelson and Māori politician Sir Maui Pomare during the early period of New Zealand's administration of Sāmoa.
The challenge was to make this all an integrated presentation that was informative without overwhelming our visitors.
How did situating the exhibition in Auckland make a difference?
A huge consideration in the early development stage of the exhibition was our local audiences, and particularly those who have palpable connections and experiences related to this content.
Auckland is home to one of the largest Pacific populations in the world. Sāmoans are the largest Pacific ethnic group in Auckland. 192,000 people live in Sāmoa and 144,000 New Zealanders identify as Sāmoan. Sāmoan is also the second most common language spoken within the Auckland region, after English.  
To present the shared perspectives in the exhibition bi-lingual (Sāmoan and English) seemed very natural, and was an easy decision to make. Here's a letter in the exhibition from William Stowers, for example, one of three Sāmoan brothers who fought for the allies. All three survived the war.
---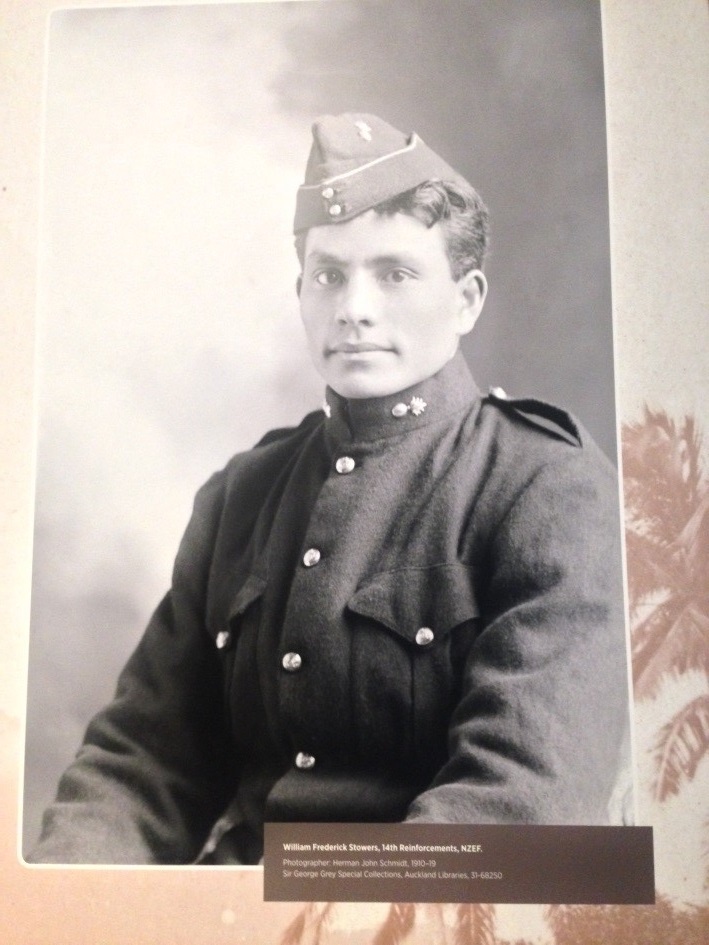 William Stowers, writing to his brother Louis, September 1917:
"Dear Louis,
Just a few lines to let you know at home that I am out of danger and as well as can be expected, my wound consisting of a bullet through the back of my neck and coming out by my right ear; the result is that my jaw is affected. Probably I'll be in England for 3 or 4 months before they send me to France again. I am well looked after where I am, the nurses are very nice. Brothers James and Bob are both in England and getting along very well. Well dear brother, I must now conclude with my best alofa to all at home, Bella and children and not forgetting your dear self. Good bye. Pray for us.
Your loving brother
William"
William Stowers, na tusi atu i lona uso o Louis, Sētema 1917:
"Soifua manuia Loius,
E na'o nai laina itiiti ia e fa'ailoa atu ai i le nofo tapua'i i 'āiga, ua ou te'a ese mai ma puapuaga i o'u manu'a, ua fa'asolosolo manuia e pei ona fa'anōnōmanū i ai. O lo'u manu'a i le pulufana i lo'u tuāua ae na ati mai i lo'u taliga taumatau ma na āfāina ai lo'u 'auvae. Masalo o le a ou nofo ai pea i Egelani mo le 3 i le 4 masina ona fa'ato'ā toe auina atu ai lea o a'u i Farani. O loo lelei pea le va'aiga o a'u i le nofoaga o loo o'u i ai nei, e lelei lava nai tamaitai tausima'i. O uso iā James ma Bob o loo iai pea i lā'ua i Egelani ma o loo sōlōga lelei foi i lā'ua.Si o'u uso pele ea ua tatau loa ona fa'a'uma lenei tusi  i 'ou alofa'aga mo outou uma i lo tatou 'āiga, iā Bella ma tamaiti ma e lē fa'agaloina pea oe le pele.
Fa'asoifuaina. Tatalo mai mo i mātou.
O Viliamu"
---
What's one of your favourite objects in the exhibition?
The proclamation documents (all three versions in German, Sāmoan, and English).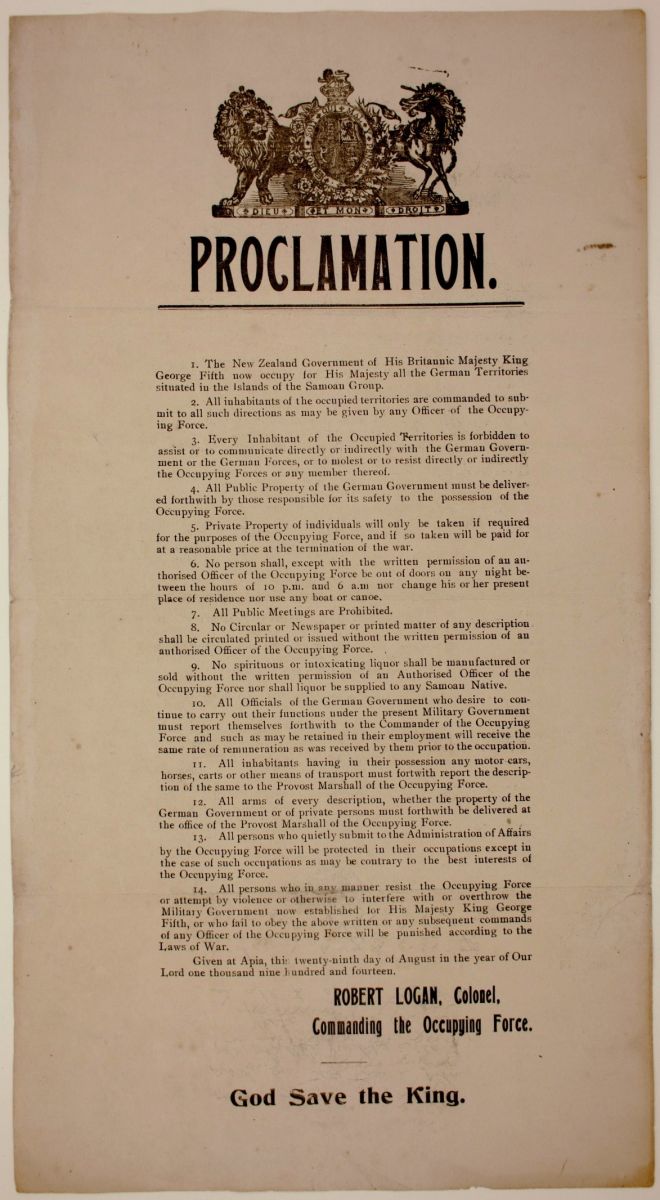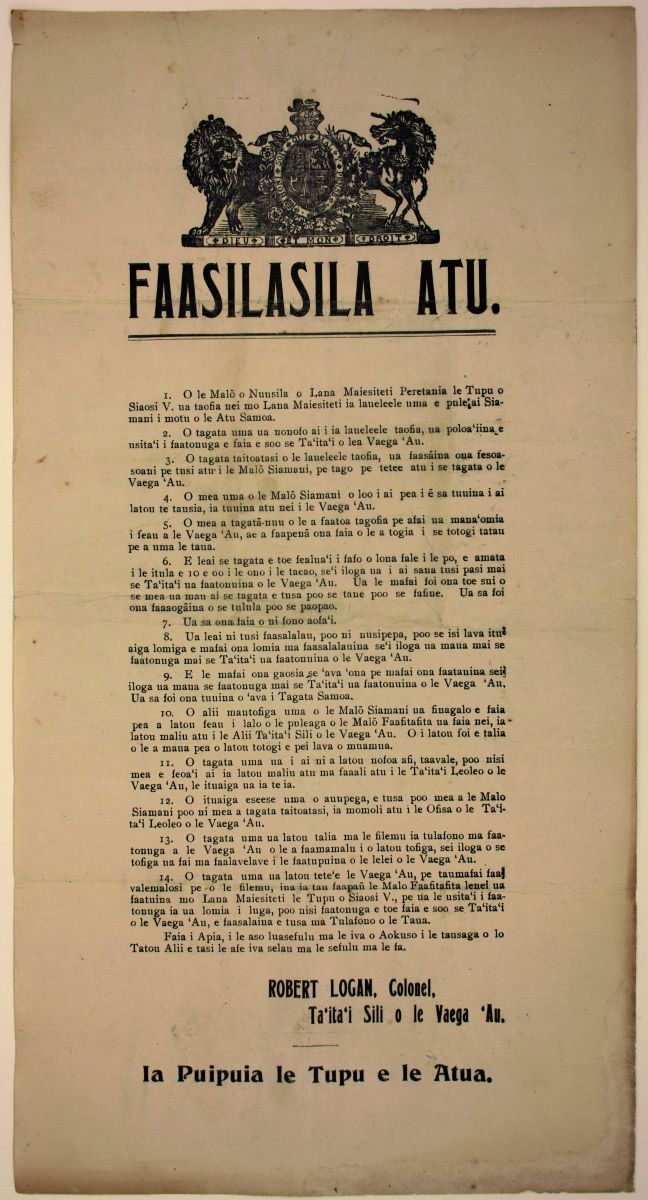 The slight ink smear on the Royal Coat of Arms image at the top makes me think about the pace at which these would have been produced. I imagine what Sāmoans reading or hearing these for the first time would make of them, and the New Zealand troops rushing around and posting them on public buildings after they landed on 29 August.
They also present a specific tone of authority and domination, typical of nations at war at the time I suppose. I marvel that these ephemeral items were available 100 years later to assist in sharing this story, and that someone had the good sense to give them to our museum. These proclamations also remind me how rich with potential stories our documentary heritage collection is.
You mentioned a couple of things that you learnt in the process of developing the exhibition. Did anything else surprise you?
I can think of a few more things I was interested to discover in relation to the First World War:
New Zealand's occupation of Sāmoa was the second  German territory taken by the allies in the global First World War
During the First World War, Sāmoans served for both the allies and for German Forces
New Zealand soldiers that went to Sāmoa then went on to serve in Europe, a stark contrast to the relatively uneventful occupation in the Pacific
The influenza epidemic (a hangover of the First World War) had a profound impact on Sāmoa – killing one-fifth of the population.
It was also interesting to learn that the occupation affected a number of Chinese people living in Sāmoa, and that nearly a quarter of Sāmoans today have Chinese heritage.
How has the exhibition been received?
It has been inspiring observing this exhibition, and indeed the content, settling into the museum and in our communities.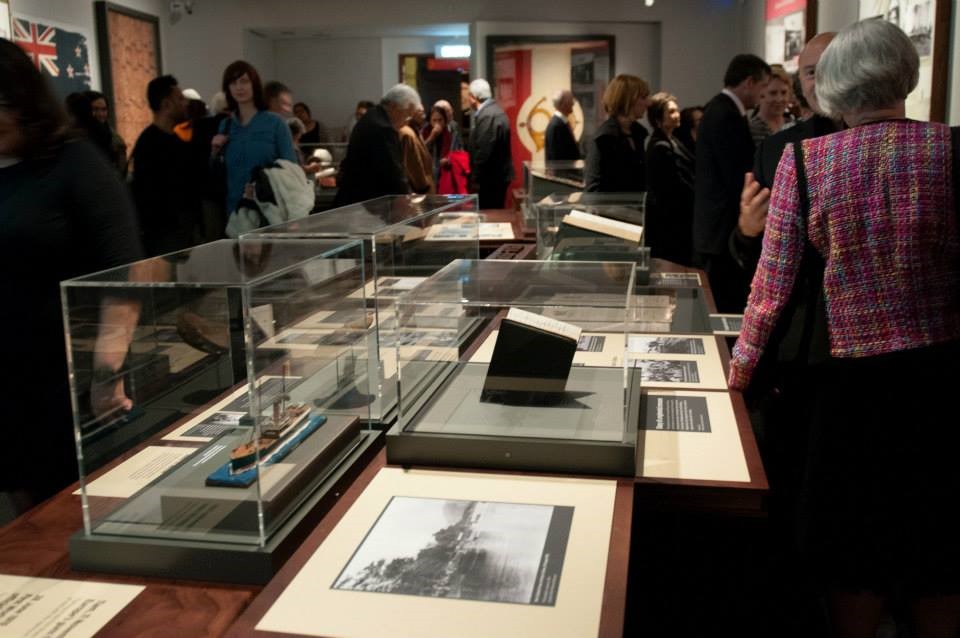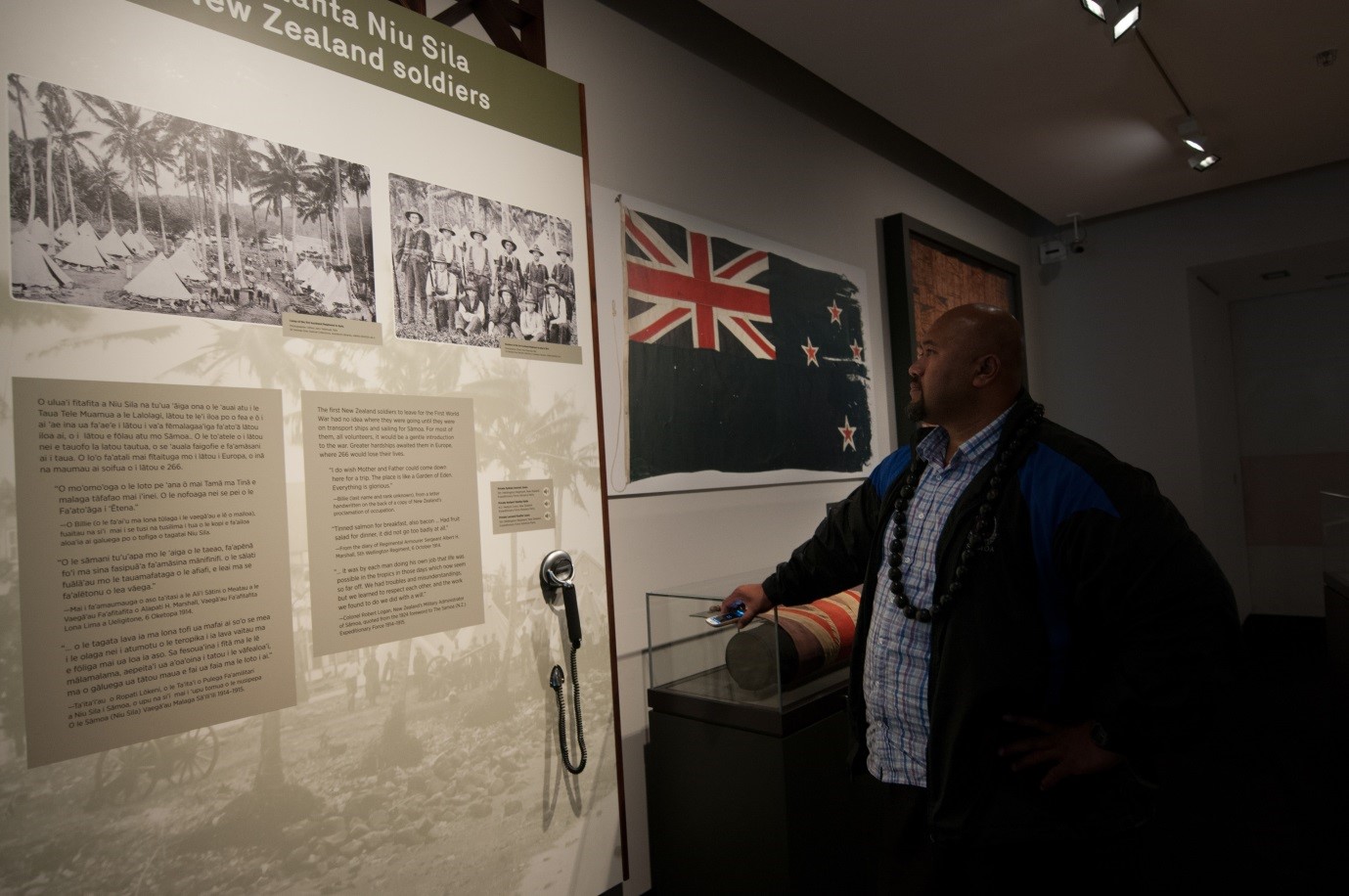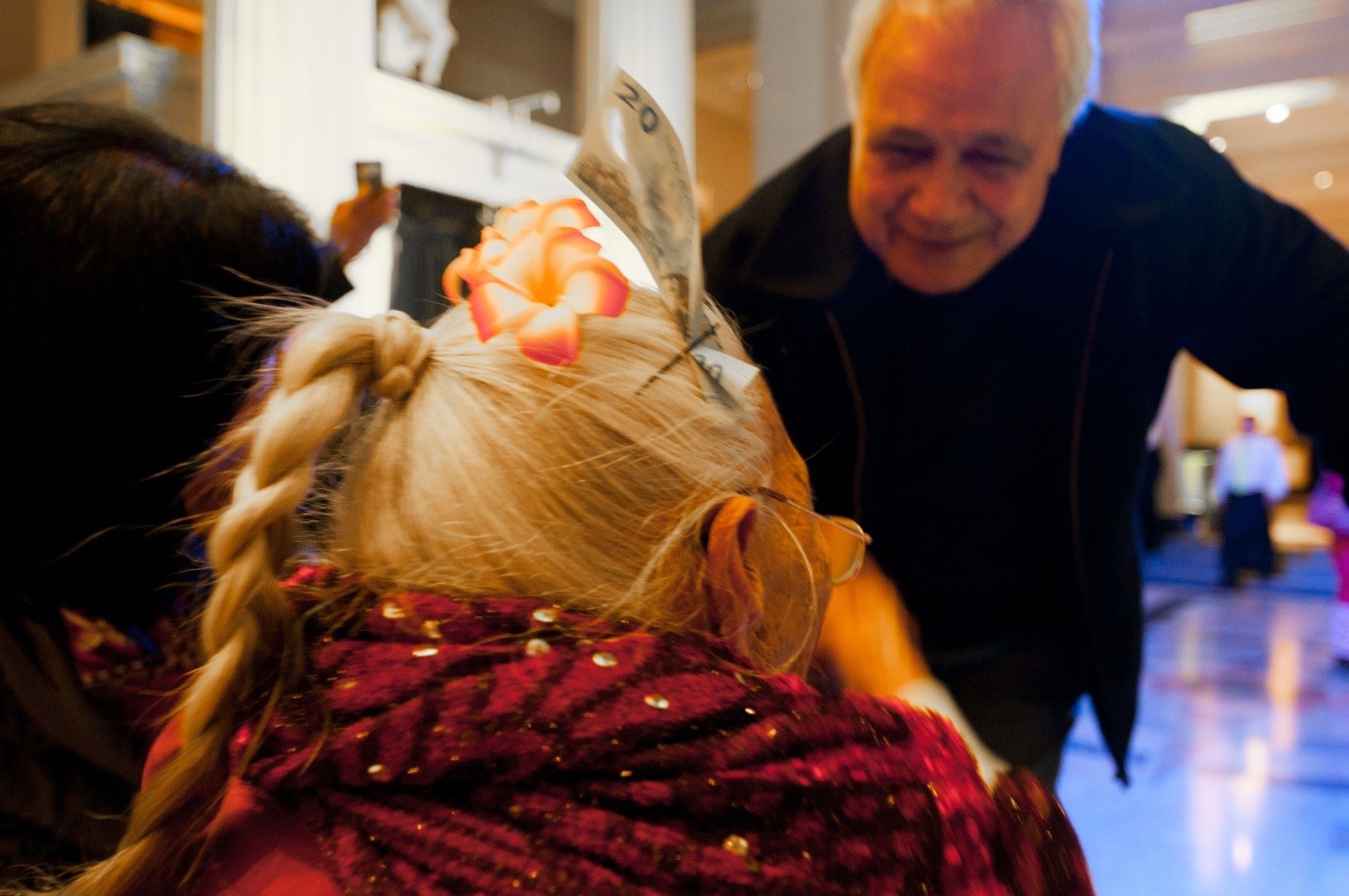 We also have visitors responding to the content via a simple postcard. I am most excited when young visitors tell me they want to talk to their parent or grandparent to 'tease out' their family stories.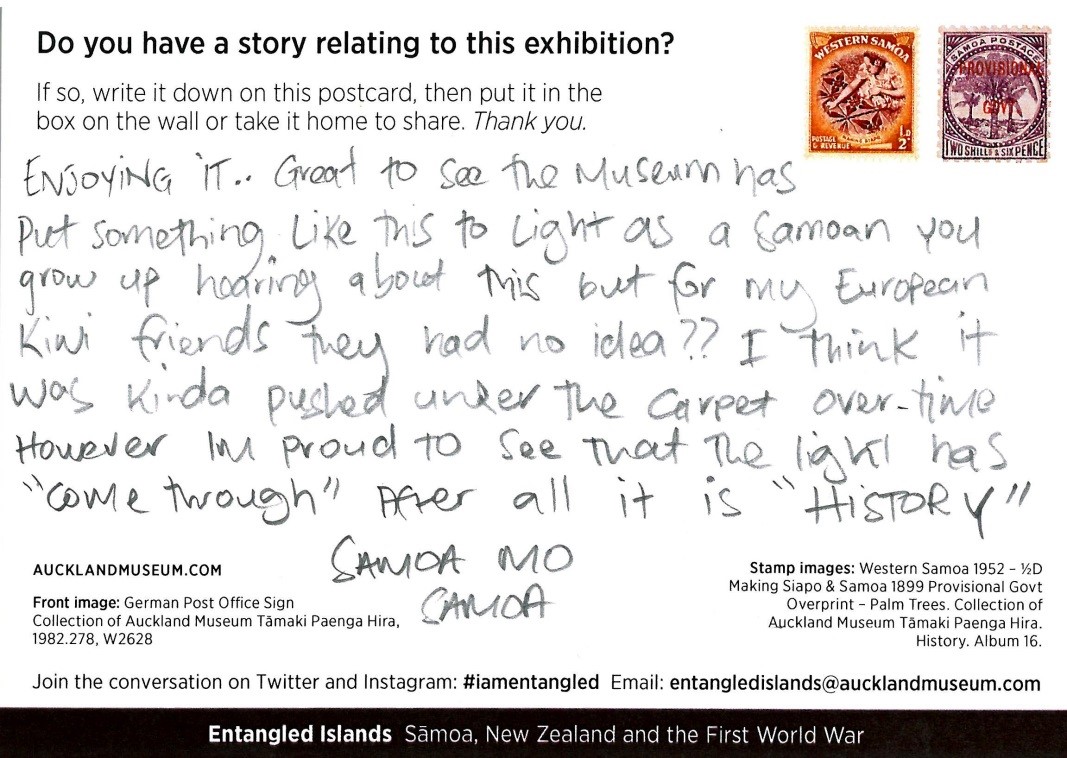 The exhibition stories are continuing to captivate and drive further instigation. In addition to hosting the national ceremony to commemorate New Zealand's occupation of German Sāmoa, this weekend (30-31 August) we have the event WWI Sāmoa: voices from the pacific.
I'm also particularly looking forward to the theatrical interpretations of the exhibition stories by UNITEC Performing and Screen Arts students. I had the pleasure of guiding these talented students a few weeks ago and had a sneak preview of their work last week. Their vignette of the proclamation is superb!
What are you most proud of about the exhibition?
I think the Museum has diligently shared experiences in this exhibition. Not only the acts 100 years ago, but those surrounding the build-up to the First World War and longer term outcomes. These are a tangible part of this city's heritage and the fabric of our nation, perhaps best summarised by Damon Salesa in his address at the opening of the exhibition on 18 June 2014:
 ' … we have tried to make use of the space that war has made, to let some precious stories be told.  Stories of Sāmoans, stories of New Zealanders, stories of Germans, and Chinese—but most importantly stories that tie each to the other. Shared histories, entangled islands….'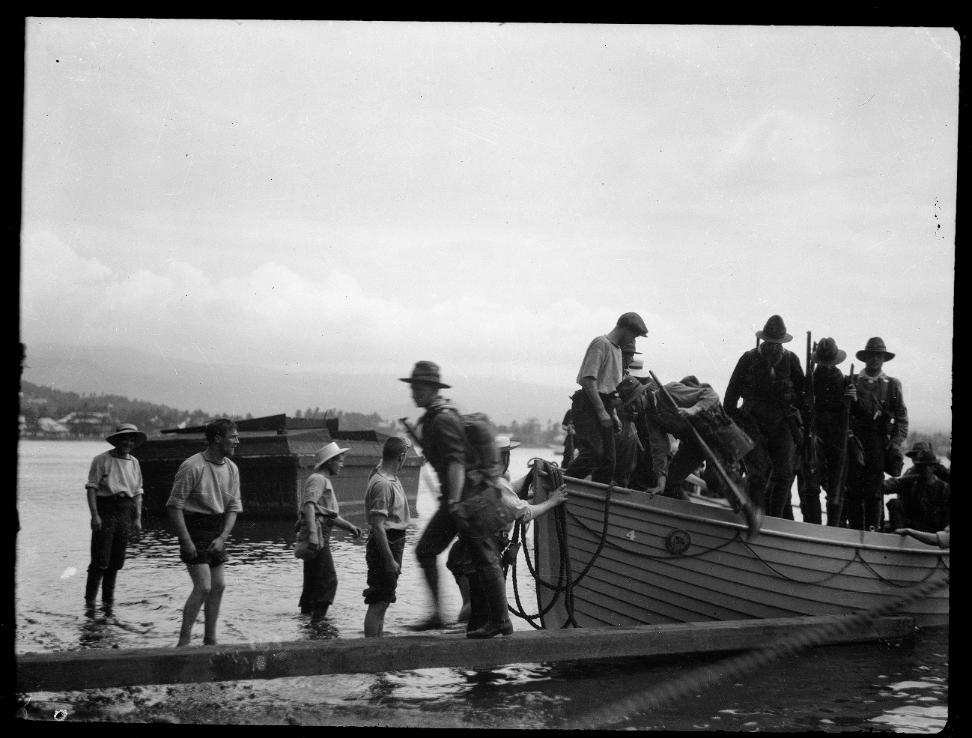 Date added: 28 August 2014
|
Last updated: 08 October 2014