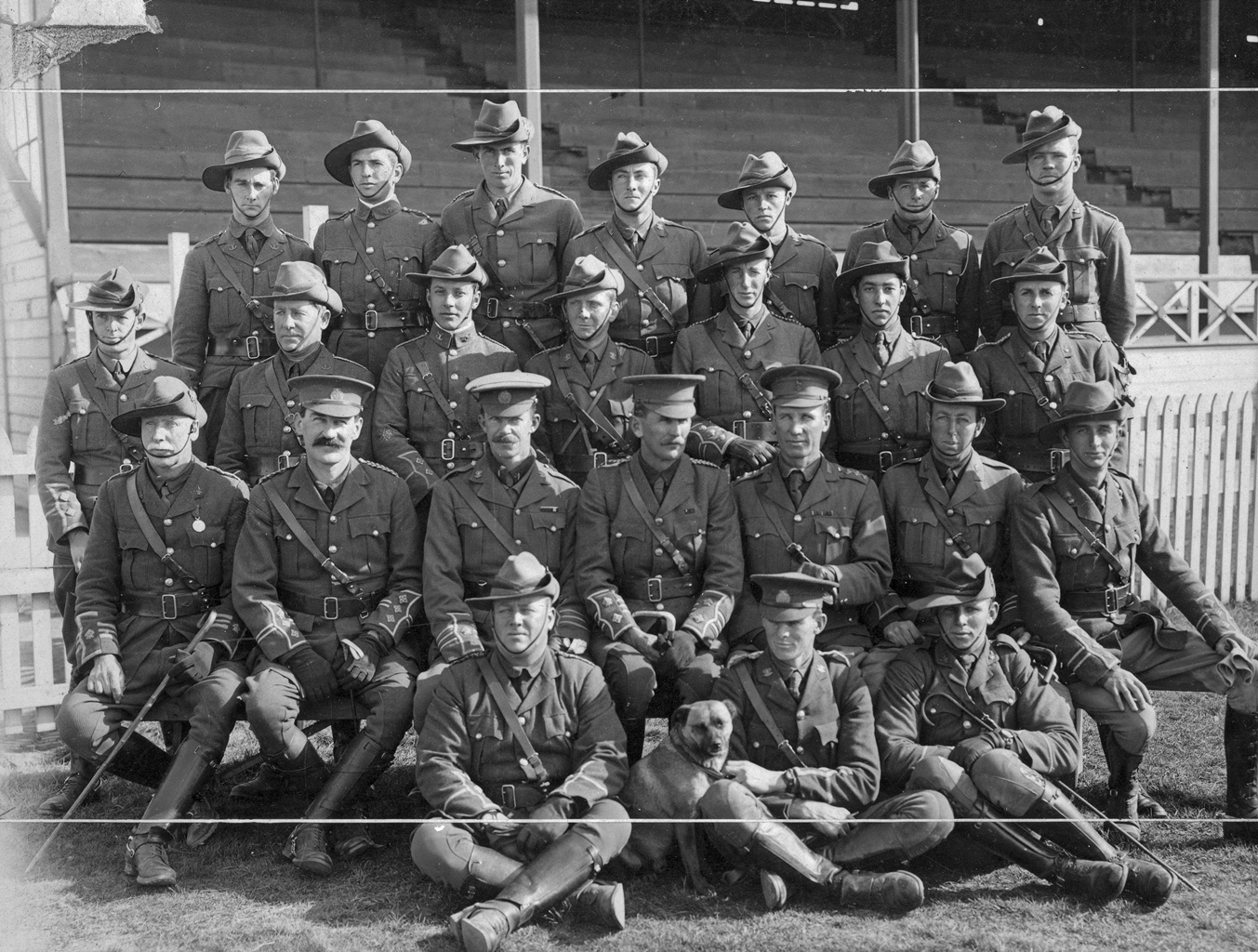 The second-in-command of the Canterbury Mounted Rifles Regiment was Major Percy John Overton, No.7/384, a 38-year-old Canterbury sheep farmer. He left a wife and four young children in New Zealand. Overton had served in the South African War distinguishing himself as a scout. In April 1902 he was mentioned in dispatches for his outstanding work.1
On Gallipoli he put his scouting expertise to good use. Overton led a group of scouts who explored the extremely rough, but lightly held ground to the north of Anzac Cove. This area, which led up to the Sari Bair range, was the only place in which it might be possible for the Australians and New Zealanders to break out and outflank the Ottoman forces besieging them. Remarkably Percy Overton wrote freely about his sensitive work in letters he sent home and which were subsequently published in the Christchurch Press. In one letter written at the end of May he wrote:
I do not get much sleep at night, but make this up during the day when things are quiet. I have been doing some reconnoitring for General Birdwood outside our outposts and through the Turkish lines, which is most interesting work. The first time I took Corporal Denton, and we had a great day together, and gained a lot of valuable information. The last time I was out for two nights and a day with Lieutenant McInnis and Corporal Young. We had a most exciting and interesting time dodging Turkish outposts, and I would not have missed the experience for anything. I was able from what I saw of the country to make a useful map and find out the movements of the Turks.2
During his scouting missions in Overton showed remarkable coolness and daring. During the mission with McInnis and Young he found what appeared to him to be a practical route leading up to Hill Q North of Chunuk Bair. The intelligence gathered by Overton played a crucial part in the planning for the Allied offensive of August 1915. In the offensive, which began on the night of 6/7 August, the New Zealand Mounted Rifles Brigade and Maori Contingent had to clear the rugged and complex ground in front of the Sari Bair range so that the Allied assault columns could attack Chunuk Bair, Hill Q and Hill 971 (Koja Cheman Tepe).
Major Percy Overton was killed on 7 August 1915 while guiding troops of the 29th Indian Brigade towards their objective, Hill Q. He was, it appears, killed before he realised that he may well have sent the Indians along an incorrect route. At the time of his death he was described by one brother officers as the "most brilliant and fearless of us all" who was as usual showing scant regard for his personal safety.3 The history of the Canterbury Mounted Rifles, after noting that the Regiment suffered 40 percent casualties in the fighting during the opening of the August defence, commented that:
Among all the gallant fellows who died during the bitter August fighting none was missed more than Major Overton. He was one of those rare men to whom the best was not enough. Ever on the look out to do more, to improve the set task, to alleviate the conditions under which the Regiment laboured, he was an inspiration to all.4
Major Percy Overton was posthumously mentioned in dispatches.5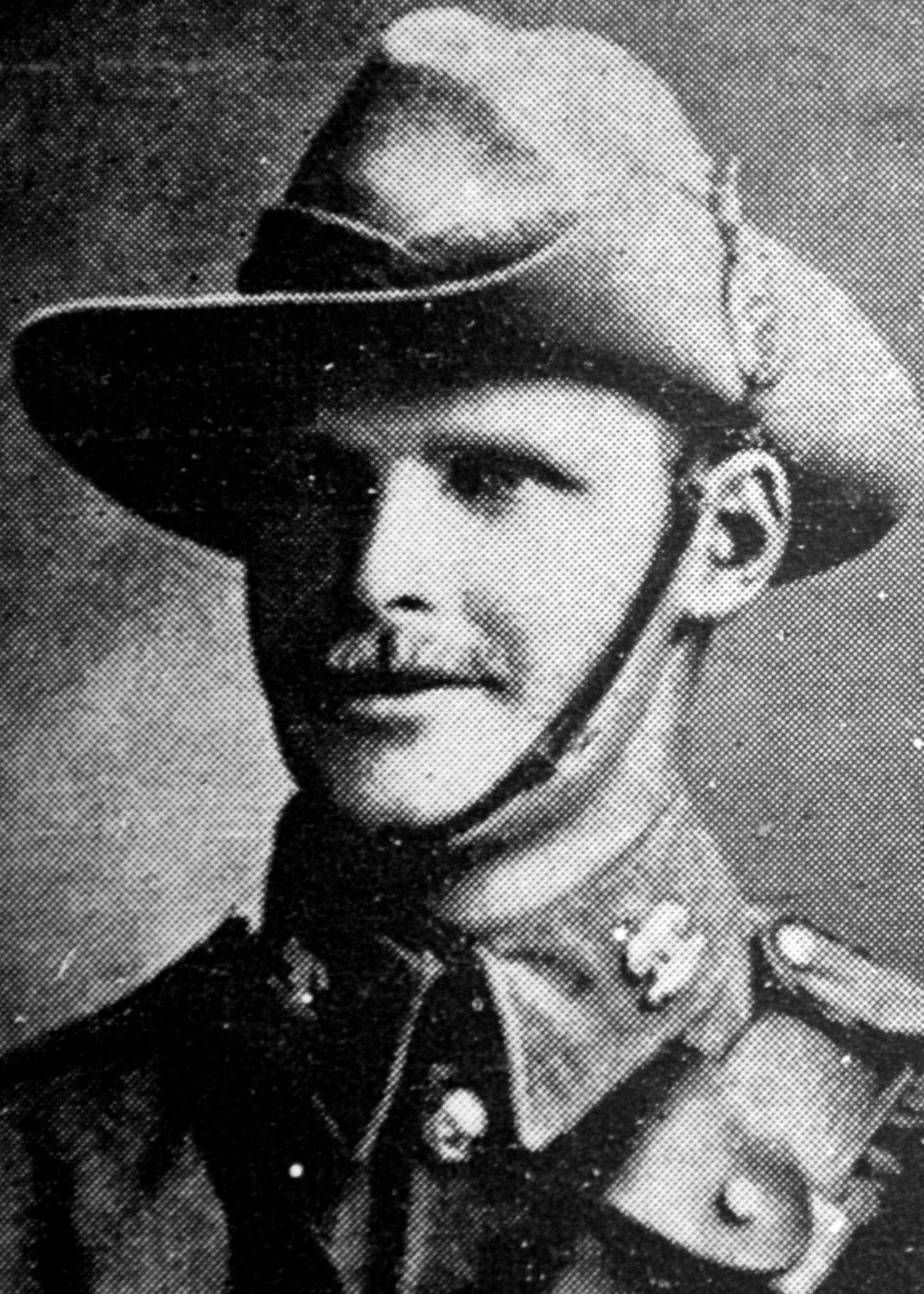 At much the same time as Percy met his death his younger brother, Lance-Corporal Guy 'Swannie' Stanley Overton, No.7/384, was badly wounded. He was a member of a "gallant little band" from 1st (Canterbury Yeomanry Cavalry) Squadron of the Canterbury Mounted Rifles who outflanked and then at great cost successfully attacked from the rear a Turkish machine-gun position on Walden's Knob [Point]. The plan for the action on the night of 6/7 August demanded that the mounted riflemen attack silently:
it was easy for the Turks to shoot them down as they climbed the hill, but every man, keeping to his orders, fired no shot and raised no cheer. The enemy could not tell from what quarter any part of the silent attack was coming, and the machine gun was rushed, the Turks near it being bayoneted.6
The following afternoon his squadron commander found Guy amongst hundreds of other wounded men on the beach at No.2 Outpost. Major Acton-Adams tried to "buck him up and say good-bye, I gave him a little pat on the right shoulder. Poor old Guy was hanging on solidly not saying a word, but evidently seriously wounded down the left side". Swannie Overton succumbed to his wounds three days later. At their home in Christchurch his parents received a telegram notifying them of his death within a few hours of receiving another informing them that Percy was also dead. In his condolence letter to Percy and Guy's father Acton-Adams wrote:
All families must suffer, but what a shame it is for such good young blood to be lost to New Zealand. With all my sympathy, sir, I can assure you that the whole C.Y.C. squadron grieves with you.7
Amongst the "gallant little band" who took the Ottoman position on Walden's Point was Trooper Noel Frederick Trolove, No. 7/406, who was renowned within the Canterbury Mounted Rifles for his bravery, but never received a bravery award. Trolove a 27-year-old farmer from Five Rivers in Southland, had enlisted in August 1914.8 Before they launched their attack the men of the mounted rifles knew that they "were in for one hell of a fight". The men of Trolove's section buried some cherished extra rations, letters and other personal material at a point near the start line. They did this with the understanding that those who survived the operation would dig up the letters and other personal items and send them to the next of kin of their dead comrades. Trolove was the only member of the section to survive the battle and duly sent off with their personal items of his three dead comrades.9
Later, in mid-August, Trolove distinguished himself with an act of gallantry, which one experienced officer described as the finest he saw throughout the war:
There was a well near one of the terraces, to the left of Walker's Ridge, where bad sniping was going on, and word went out that the snipers were to be located. Volunteers were asked for, to go out one night, observe next day, and come back the following day .Trolove and his friend [trooper Jamie] Orr volunteered, and crawled out on their bellies during the night to hide in the Tussock. Orr was killed but Trolove survived the day in the blazing sun, under fire from the Turks, and carried Orr's body in the next night for burial. He cracked up under the terrific strain, but not before he given information on which machine-guns were sent out next night to do some good shooting which cleaned up the position.10
Later in August Trolove became seriously ill. He was evacuated from Gallipoli and eventually discharged from the NZEF in December 1916 as unfit for further war service.11
Footnotes
History-Sheet and attestation form, Percy John Overton, NZEF personal file [PF], R21383109, Archives New Zealand, Wellington [ANZ].
Press, 22 July 1915, p.8.
Terry Kinloch, Echoes of Gallipoli: In the words of New Zealand's Mounted Riflemen, Auckland,2005, pp.211-12; Press, 22 October 1915, p.8 (quoting a letter from the Major Acton-Adams of 28 August 1915).
Officers of the Regiment, The History of the Canterbury Mounted Rifles 1914-1919, Auckland, 1928, p.51.
London Gazette, 5 November 1915, p.10039.
Officers of the Regiment,, p.49; History-Sheet, Guy Stanley Overton PF, R21383107, ANZ.
Press, 22 October 1915, 8; Poverty Bay Herald, 19 August 1915, p.4.
History-sheet and attestation form, Noel Frederick Trolove, PF, R7881049, ANZ.
Noel Trolove, 'Memories of Gallipoli -- August 1915', MS-Paper-10283, Alexander Turnbull Library, Wellington.
Ibid., note by an unknown person.
History-Sheet, Trolove PF, ANZ.